Sometimes, going on holidays with your family and children can prove to be a real challenge. Many people think that, when starting a family, there must be compromises: giving up social life, traveling or visiting other places. However, if your research is wide enough, you'll manage to find extraordinary places to visit without letting your children behind or ruining your holiday by picking up something fancy for you but boring for them.
Here's a tip: Disneyland Paris! Whether you are a three years old child or an adult, you have to go there! It's a destination for all ages and a great amount of quality time will accompany you! Whether you're into princess castles or you're into fast rides, this is the perfect family destination. But let's start from the beginning!
Disneyland Paris is an entertainment resort located near Paris. Covering 4 800 acres, Disneyland encompasses two theme parks, several hotels and a shopping, dining and entertaining complex.
The first theme park (Disneyland Park), also known as the Magic Kingdom is the one your children will definitely enjoy the most. As you enter into the park and start walking on the Main Street, the Cinderella Castle heightens solemnly before you. However old you are, all your childhood passes right before your eyes when you see the gallant towers, and gradually, you forget reality, being absorbed in the fairy tale. The Magic Kingdom is mostly dedicated to fairy tales, encompassing several sections: Fantasyland, Discoveryland, Adventureland, Frontierland.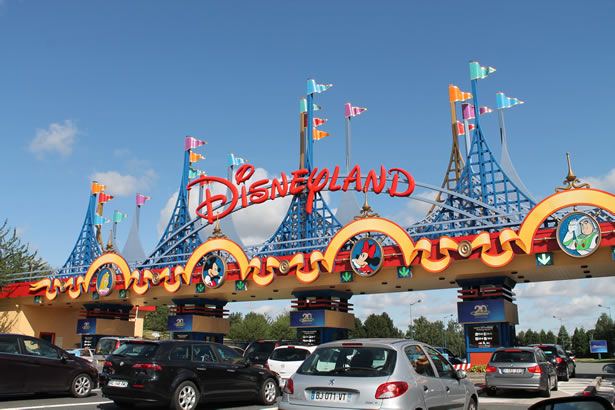 Sometimes, going on holidays with your family and children can prove to be a real challenge...
In fantasyland, we can encounter our beloved Disney characters being on parades, playing with children and taking pictures with anyone who wants to record the amazing moments spent in their company. Entering in the fairy tales world, you can wander in a labyrinth with characters from Alice in Wonderland, or you can visit Jack and the Beanstalk.
Your daughters will be thrilled to take some pictures with one of the Disney princesses, and Peter Pan will delight your sons with his presence. But keep in mind that you have to get a map as you enter Disneyland and check to see the times and places certain characters will be around, as many people have the false notion that everywhere you turn you will bump into them... Also, visitors have to wait sometimes for as long as 30 minutes to 2 hours to enter an attraction or a ride. Although children will love Disney Park, their patience will be put to the test.
A grown up should definitely visit Adventureland! But don't worry; your children will love the sights, too! The Pirates of the Caribbean theme stands out in this section. You pass through a network of tunnels and caverns where you encounter the pirates and their treasures. Their old, wooden ship is moored to the shore and although you are not allowed to go on board, such a perfect replica is breathtaking.
Frontierland is based on American Wild West. Can you imagine how it feels like to enter from the 21st century into a Wild West city, with small, wooden houses and taverns, just like the ones we see in the movies? There are moments when you just can't believe your eyes! Everything is perfect in the smallest details!
The second theme park is called Walt Disney Studios; if you want some adrenaline into your system, this is the perfect place to be in! Please try Aerosmith Rollercoaster, Tower of Terror or Crush's Coaster, but be aware: once you get past the creeps, you might actually become adrenaline addicted! Besides the big thrills, Disney Studios takes you behind the scenes of filming movies, satisfying anyone's curiosity. You can learn how special effects are created in Armageddon, and see what it feels like to be an actor on the set.
Disney village stays open during the night, too. Entertainment never ends, as you can choose anything from shopping to cinemas, restaurants, concerts, sport events, and other cultural moments organized for visitor's delight. And when you feel tired enough, the Disney hotels are also in the same area, so basically visitors don't need to use means of transportation to get from one place to another.
In conclusion, whether you want to go in a family vacation or you just want to have some fun, Disneyland Paris, with Mickey, Goofy and the others await you!