You have probably heard about the many great things green coffee can do. It has been currently termed as a "miracle ingredient' since it has a lot of benefits when it comes to beauty and health. Although green coffee has not been recently discovered, it became popular for weight loss after it was mentioned on the Dr. Oz show in 2012. Actually, green coffee originates in Arabia, and it is believed that its cultivation dates back around 1000 A.D.
Green coffee is known for health benefits for heart diseases, diabetes and others. Green coffee is an extraordinary source of antioxidants. Not being roasted, it has great potential of reducing oxidative stress, which is produced by everyday stress, unbalanced diet, pollution, chemical exposure, or, in other words, everything we face in our daily lives. The roasting process of coffee beans reduces the level of chlorogenic acid which is responsible for producing health benefits. Thus, comparing to roasted coffee beans, green coffee maintains a high level of chlorogenic acid.
However, after Dr. Oz's show on green coffee, some lab experiments made by the American Chemical Society have shown that the green coffee dietary supplements are not as beneficial and miracle working as stated in the TV show. Moreover, side effects are not yet known. Experiments have been conducted on mice and the results were outraging: it seemed that these supplements caused fatty deposits in their livers. In this experiment, the mice consuming chlorogenic acid didn't lose weight comparing to the other mice.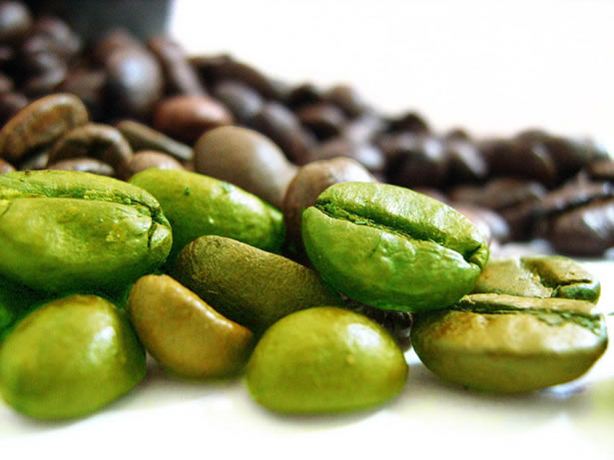 Green coffee, controversial on the subject of weight loss
On the other hand, when another experiment of the American Chemical Society on green coffee has been conducted on 16 overweight individuals, the final result was a decrease in total body fat. The 16 individuals took capsules containing green coffee bean extract; they didn't change their usual diet.
The subjects were under supervision for 22 weeks, and after this period, a loss of 10 pounds/ person was registered. The conclusion of the experiment is that the supplements containing green coffee beans have a minor weight reducing effect; however the mechanisms of this process are currently unknown.
An independent market research, involving 62 people and a 4 week study has shown that the average loss in weight using the chlorogenic acid enriched coffee was 1.35 kg. With normal instant coffee, the loss in weight was 0.12 kg. In the Journal of International Medical Research, 2007; 35:900 -908, scientists conclude that "chlorogenic acid enriched instant coffee appears to have a significant effect on the absorption and utilization of glucose from the diet. This effect, if the coffee is used for an extended time, may result in reduced body mass and body fat when compared with the use of normal instant coffee."
Furthermore, researches have been conducted in order to find out whether green coffee helps to weight loss or not.
Opinions are divided, but one thing scientists know for sure: the results of mice experiments and the ones of other studies on weight loss don't annihilate the benefits of green coffee in disorders such as: high blood pressure, diabetes, and other disorders generally termed as "metabolic syndromes".