Best Web Directories
Written by Robert Gombos
Since more than a year ago I have been maintaining a list of the strongest web directories and have been updating it on a monthly basis. Recently, after having read much information and research on this issue, I feel like it's time to create a revised list of best directories that also takes into consideration factors used by Google.
Introduction

Lately, upon having read information posted on various directory-related discussion forums, like info.vilesilencer.com (404, Archived), webdirectoryforum.org (another best web directory review site went off...), and after talking with a few well-known web directory owners, I've come to a conclusion about how a web directory should be more objectively evaluated - especially when we refer to them as best web directories. This is not only my opinion but, more importantly, it is dictated Google's TOS.

The whole idea is very straightforward. Matt Cutts, announced some time ago that Google gives no credit to spam directories (link to the Youtube video). Please take the 5 minutes to watch the video; otherwise you won't fully understand this article.

A directory's age, number of backlinks and so on is not important. But what does matter the most? Its Page Rank? Domain Authority? Number of backlinks? The age of the domain? How many people tweeted or shared on Facebook that specific web directory? (we all know how easily manipulated these metrics are.) We can conclude easily, knowing how Google sees spam web directories and their content/links, that it is a waste of time and money to invest in submitting websites to directories advertising themselves as "Submit now, online since 1998" and when you start surfing its content, you see nothing but spam.
Which best web directory list should we trust?
Okay - when surfing the Internet we'll find multiple misleading/non-updated lists of web directories with few exceptions such as:
Aviva Directory's Strongest Directory List (the list is well known for years, and it was updated a few days ago)
Info Vilesilencer's list: vilesilencer.com/blog/?p=442 The Ultimate List of Strongest Directories for 2013 (this list is recent and it's based on several metrics) - The site went off, so keeping the URLs for the recong but unlinking them.
Info Vilesicenter's Trusted and Established Directories (here you'll find the best web directories ever, the 4-5 top ones)
My own Strongest web directories (this is a sortable table of 35 best web directories)
DirJournal's list of Best General Web Directories
WDR's The top ten web directories http://www.webdirectoryreviews.org/top/top/, http://www.webdirectoryreviews.org/top/top2/, webdirectoryreviews.org/top/ reviews. (reviews by a former DMOZ meta). The site went off, so keeping the URLs for the recong but unlinking them.
Web Directory List's Strongest Web Directories Post Panda/Penguin
pandia.com/powersearch/index.html (this resource, unfortunateley no longer exists)
Beside these resources, almost all other lists of best directories have not been updated in a few years, or are based on very subjective metrics. There are even a few "paid for" posts on various reputable websites, but I don't want to talk about those.

About the real best directories available on the Internet...
The main idea is quite simple. The value of a web directory is proportional with the editorial discretion each directory owner applies. If you see a directory filled with keyword reach listing titles, descriptions containing superlatives like "leading", "the best", "cheapest" etc., you'd better close the page and save your money.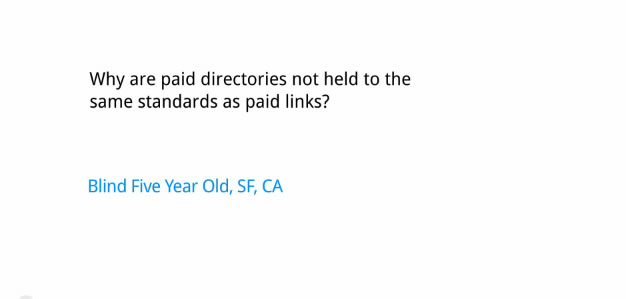 If you watch Matt Cutts' video I linked to above, you'll understand what I mean. Doing things like submitting your website to 2000 free spam, same IP directories will hurt your website - you'll also need to pay additional money to ask those web directory owners to remove your links.

So I strongly recommend surfing a web directory a bit before hitting the "Add You Site" button. Check out if they have any kind of editorial discretion and read their guidelines. Check out if there are any manually, hand-picked websites added (this is a good indicator about how much the web directory owner cares about the quality of his website. Apple or Dell won't submit their website to directories, that's for sure). The best web directories are those that'll open your website and include it only if you provide a valuable resource.

The best web directories are those that will correct your listing's title and/or modify the description in order to be an objective one. The best directories are the ones that will move your listing into your most relevant niche category.

Without further ado, here are the best web directories identified here because of their editorial discretion and based on the overall value that is delivered to the end-user:

A. The following three directories are great for reference only. Users cannot suggest a resource for it to be reviewed.
Digital Librarian - is maintained by Margaret Vail Anderson, a librarian in Cortland, New York.
ipl2 - They are not accepting new site suggestions "(In 2010, ipl2 received more than 21,000 site suggestions and more than 85% of the site suggestions submitted did not fit the current ipl2 Collection Policy. We will evaluate all of the site suggestions that we have received before December 14, 2010. After Dec. 14, 2010, any suggestions for new websites submitted to this or any form on ipl2 will not be considered for inclusion in ipl2. We will update you with any changes to this decision." (Citation source)
The WWW Virtual Library - a team of volunteers are adding websites, you can't suggest any website.

B. Web directories which comply with Google's TOS, are actively maintained by their owners, have their own team of editors which are mining and adding resources with a high grade of editorial guidelines.
Users CAN suggest a website to be reviewed but there is no guarantee of acceptance. Some directories will refund the review fee, others won't. Read their TOS and/or guidelines.

http://www.abilogic.com/ ($14.95 one-time fee for Standard listings, $34.95 one-time for the Express ones)

http://www.avivadirectory.com/ ($49.95 per year or $149.95 one-time)

http://botw.org/ ($149.95 per year or $299.95 one-time)

http://www.business.com/ ($299.00 per year)

http://www.chiff.com/ (Free)

Yahoo! Directory, shut down in 2014 (used to charge $299.00 per year)

dmoz.org - AOL closed it in 2017

http://www.dirjournal.com/ ($59.95 per year or $159.95 one-time, $99.95 per year or $249.95 one-time)

http://www.ezilon.com/ ($69.00 per year or $199.00 one-time)

http://www.gimpsy.com/ ($49.00 one-time)

https://www.jasminedirectory.com/ ($59.00 for the Standard listings, $115.00 for Express the ones)

http://www.joeant.com/ ($39.99 one-time)

http://www.skaffe.com/ ($44.99 one-time)

http://www.webworldindex.com/ ($25.00 one-time)

---
Note 1: I ordered the list alphabetically to avoid any subjectivity issues.
Note 2: I haven't included http://www.elib.org/, because they changed their niche from general to a shopping-only directory.

So, you don't have to submit your website to a gazillion spam directories. Choose wisely, follow the rules and you'll be on the right track. I can guarantee that the above directories, having a human action involved and a high editorial discretion deliver a valuable benefit for your SEO efforts.

Tips for saving everyone's time and money!
Next, as an editor, I will give you a few tips regarding how to submit your website to the directories I listed above in order to be accepted:
• Start by surfing the directory for the most appropriate category or subcategory for you niche.

• If the directory has a regional section and if your business or the service you offer is related to a specific country or continent, submit your site there. (E.g.: If your business offers plumbing services in London, UK - You'll want to suggest your website to /Regional/Europe/UK/London/Home-and-Garden/Plumbing or something similar. If you sell clothing and ship worldwide, you can suggest your website to the general /Shopping/Clothes/ category.)

• Use the official title of your website. Do not use a bunch of keywords like "Best SEO Company | Guaranteed Results" while your website's official title is MediaStream (it was just an example)

• When it comes to your website's description, avoid repeating the website's name, be objective and do not use superlatives like "best on market", "leading company", "cheapest", etc. Briefly describe what your site provides and offers; what can a visitor find on your website etc. Do not use capitals for all words like "We Offer The Best Services....".

• Don't think about a review fee that is a guaranteed inclusion fee. You have no idea how much money and effort a good directory can swallow. By this I refer mainly to the editors, their time, technical issues, improvements, marketing and on. So, you're paying for someone to open your website, analyze it and decide if it's worth to be listed or not. In most cases, you'll get a response from the directory owner or one of the editors with the rejection reson and what should you do to improve your website.

• Don't get upset if an editor decides that your website fits better to another category, or slightly changes your website's description.

I hope this article will help clear out the fog that surrounds the web directory industry, which now is completely different than it was only a few years ago. Google has its own rules, we all want visitors and we have to act accordingly to win.
---
Note: It is impossible for me to know about each and every web directory. Maybe out there is an astonishing web directory that complies with the standards I'm talking about in the entire article. Once again, those standards are:
A very high quality of editorial discretion.
The percent of dead links (parked, under construction, redirects, 404s, etc) should be negligible. There are a lot of link checking tools available. Once a month, every web directory owner should scan their website for dead links, look for redirects, etc.
Proof of hand-picked listings: there are certain categories, which will be quite empty if the owner doesn't add valuable listings in it.
Anything else, besides the pure listings (images, forums, blogs, onto-pic articles, category descriptions) are much appreciated.
All in all, a web directory based on Google's view must offer value to the end-user in order to give credit to the outgoing links. The reverse side of the coin is the other gazillion directories that accept anything for $5 and have no editorial discretion whatsoever. Those web directories are useless in my opinion because they manipulate Google's algorithms which is against their TOS.
So this article wasn't written with PR, domain name age, backlinks number or any other metric to sustain our list of best web directories. It's a pure list of directories that comply with Google's TOS.
Drop us a line if you want us to analyze your directory. If your directory cannot be listed here (and we'll also provides the reasons why), that doesn't mean that it isn't a great directory, but it may be so from a different approach.