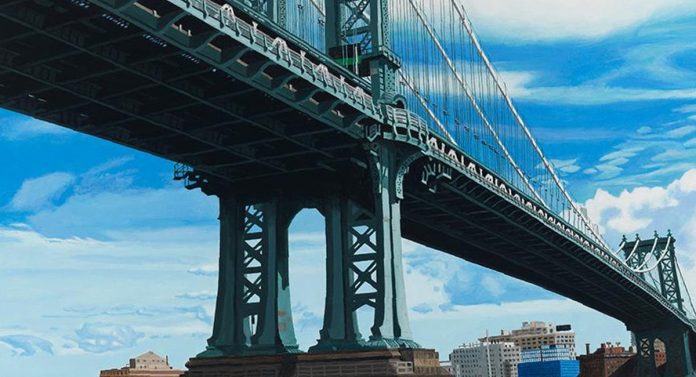 Your path on becoming an artist was not typical. Share that with us.
Roland Kulla: I'm on my third career. I spent ten years in the seminary studying to be a priest. I made a lateral transfer to social work, a career that kept me busy for 30 plus years as a practitioner, administrator, teacher and consultant. But throughout it all I have always been active with art in many forms. I've sung, designed sets and costumes, played violin, rehabbed and restored several Victorian buildings and gradually tried different types of visual arts. I started with drawing and watercolors, moved to oils in 1989 and then started using acrylics in 1996. I've also picked up some printmaking along the way – linocuts, woodcuts, drypoint, lithography, etc. I took the plunge and started to show my work about a dozen years ago. Many, many baby steps later, I decided it was what I really wanted to do with my life.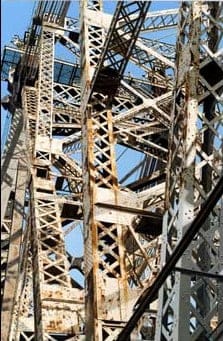 Why are you a painter?
Roland Kulla: I have visions. Painting is the process by which I make them visible. I ignore the visions at my peril.
NA: Describe your overall work and method and also why you have been drawn to "bridges" as a subject matter.
RK: Bridges caught my eye about ten years ago when I was looking for something more "conceptual". In my interpretation of that term, I took the bridge forms and painted them in a realistic style, but I eliminated backgrounds and cropped them in such a way as to make them abstract at the same time. I generally compose with the camera, then select the most dynamic images to produce as paintings. I usually work in series, so I will be working on a dozen or more paintings at one time.
You recently had a one-person show at the George Billis Gallery in NYC. How was that whole experience?
Roland Kulla: It was a great situation because by the time it happened, I'd had experience. I was used to developing bodies of work and working to deadline for several years. I was also used to putting on my own shows at the co-op gallery where I was a member. So I knew something about what it took to put on a show.
I had been showing with the Billis gallery for several years as an "other artist" before the Gallery decided to represent me. They had been selling a half dozen paintings a year of my Chicago "bridges" work. So I had a track record and didn't feel like I needed to "prove" myself in that sense. I had already been scouting New York bridges, so when the time came, it was easy to pull together a group of images that I felt would make an exciting show. I also included the gallery director in the process of selecting the final set of images. I felt it would be more productive if he were invested in the images and not surprised by what I produced.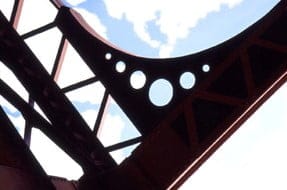 What was different was letting go of certain parts of the process. I had been used to doing my own thing, hanging the show myself, etc. With the gallery, they worried about that. They also handled the media, cards, etc. My job focused more on producing the best paintings I could. While I have less contact with the collectors who buy more work, the fact remained that more than half the paintings sold – the best show I'd ever had.
Where do you see your work taking you in the future?
Roland Kulla: The short answer is "all over the place". I've begun to do "bridge cities". So far, I've done Chicago, Boston, New York and Pittsburgh. There's plenty more material in each of those places. But I'd like to do Portland, the beautiful bridges on the Oregon coast highway, Cleveland, etc. There could be a whole road trip on the Ohio. And that's just the continental US. Eiffel did some beautiful bridges in the south of France that gave him the experience to build the Tower in Paris. There's the Blaues Wunder in Dresden. Some great stuff in Cologne. Lots of possibilities.
And if I get tired of bridges, I can keep working on my occasional series of ruined Cistercian abbeys that are scattered throughout Europe.