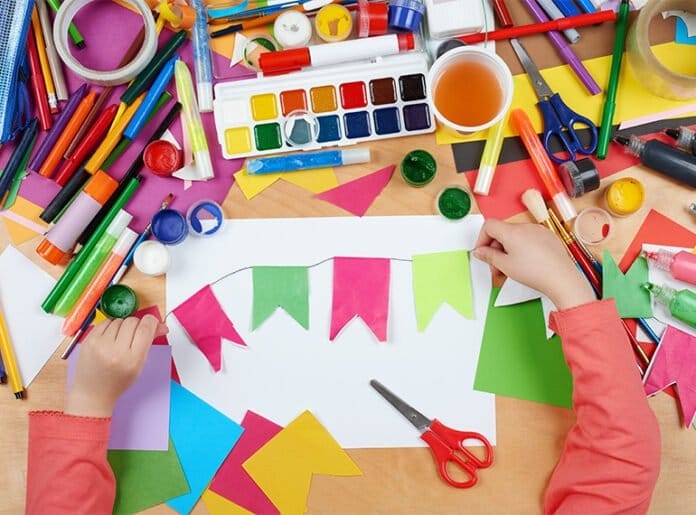 Having a hobby is an excellent way of enriching and bringing joy to our lives. Not only do you have something you love to do in your free time, but it also gives you an opportunity to learn something new. Your hobby can be about anything as long as you love to do it and help to pass your leisure time easily. If photography, scrapbooking, drawing, sculpting or painting are your hobbies then you are promoting positive health unknowingly during the process.
Taking up crafts and arts will offer you much more than enjoyment, and this can include everything from increasing brain productivity, enhancing self-esteem to reducing the effects of severe health conditions. Take a look at the 7 good reasons to take up crafts and arts,
Stress Relief- If you engage yourself in art and craft you will experience a reduction in anxiety and stress and most importantly will experience an increase in your positive emotions. The moment you get immersed in making craft your mind will automatically break away against distracting or pressing thoughts but rather pay attention to the job at hand. It is this that will help in creating a meditative state that will help you to forget your concerns momentarily and in doing so it will create mental clarity and cut down the stress levels.
A boost in Confidence- When your creative venture is complete it will boost up your self-esteem which will help in brightening the mood via augmenting the neurotransmitter dopamine. Dopamine or that feel-good molecule will reduce the moments of depression and assist in generating confidence. It is your creative endeavours that will possess in you the ability to instil that sense of achievement that will promote happiness naturally. To avail the best quality and the broadest range of craft supplies, contact CraftOnline.
Increase Empathy- Knowing about crafts and engaging in it will have the ability to change the manner in which you feel and think. Only looking at art can give you enjoyment and boost up your skills of critical thinking. People that create or view a craft will be more tolerant towards others as well as show more empathy.
Improved Medical Outcomes- There is a connection between craft, health, and healing. There is proof that those suffering from a debilitating illness like Alzheimer's and dementia will show improved medical outcomes post creating a craft. After all, it is the creative process that can lessen the psychiatric signs and improve the social behaviour and pleasure of the patient.
Improve Brain Productivity- When there is an increase in dopamine resulting from creating craft it will boost up in creating new neurons that in turn will help in promoting concentration and focus and make the brain ready for learning. When you involve yourself in doing the craft, you will be strengthening the connectivity amid the right and left hemispheres of the brain which will help to boost up productivity and psychological resilience.
Reduce Effect of Severe Health Conditions- A craft filled occupational void will help in distracting the thoughts of illness. Crafts will have multiple positive effects especially on people that suffer from severe health concerns. When a patient is engaged in a craft, he/she will experience less stress, express feelings easily and above all manage in maintaining the identity when it comes to the former self via craft. Craft acts as one's health's social determinant; it will not cure the disease yet benefit no matter what ails you.
No age limit – Perhaps one of the best things about taking up art and craft is that there is no age limit to it. Kids love to try their hand at art and craft, whether at home or school it is a beautiful way of expressing things. Professionals can take up painting and craft as a stress buster from their busy lives. Seniors can take up art and craft create a social life and bond with fellow art lovers to spend their time.
If you are picking up arts and crafts as a new hobby, it will challenge you to give the best. When a new thing challenges you, it will keep you engaged and help you enjoy your leisure time in a relaxed manner. If you do not enjoy doing something, there is no point in investing time or money in it. Those of us who have a hobby very well know how much we have to be involved with it to enjoy our free time.
Just because something is the fad does not mean you have to do it too. So, before you decide to take up a hobby, whether it is art and craft or something else choose wisely. The bottom line is, engage yourself in crafts and arts or any other hobby and stay happy and healthy.