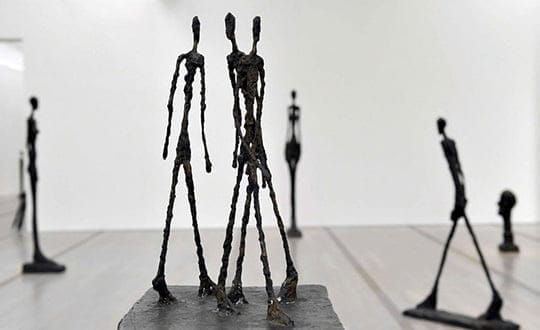 What do you think of when you think of art? Most people envision paint on a canvas, or pencil sketches. With a mix of appropriate metalworking machinery and traditional techniques, artists can do amazing things with metal as the primary medium. Perhaps the most striking thing about metal sculptures is their magnitude, artists often work on a large scale to create breath-taking installations.
Cold, and often harsh metal can be manipulated to create soft movement and elegance, or it can be harnessed to display an impressive feat of engineering and geometry, perhaps securing it as one of the most versatile materials. The range of metals these artists work with support the message of the final product, whether its solid steel, or recycled materials. Here we have listed five of the most impressive sculptures, formed entirely from metal.
ELLIE AND BILLY – http://www.matthillprojects.com/sculptures/ellie-and-billy/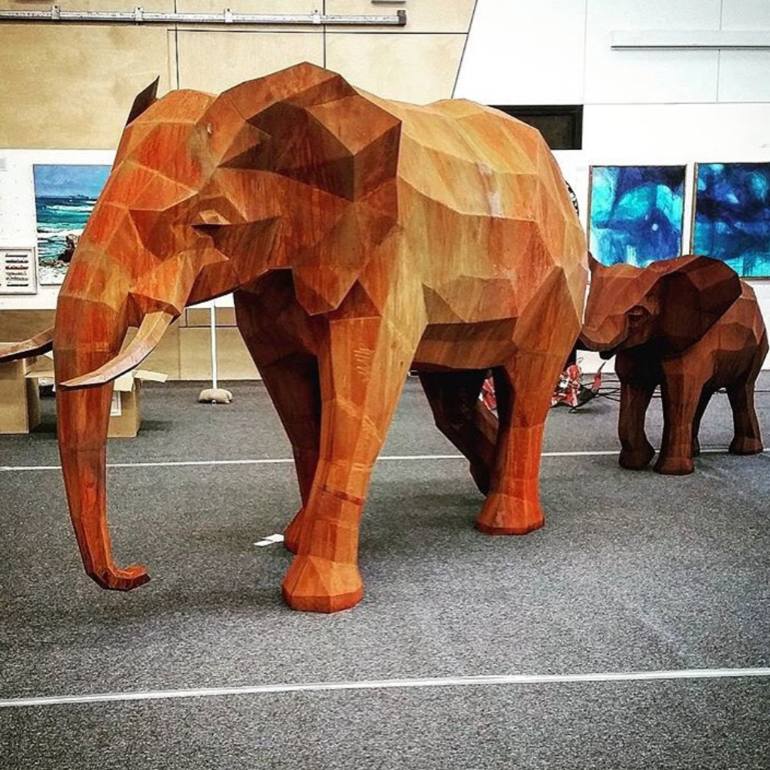 Australian artist Matt Hill is well-decorated, having won numerous arts awards for his unique steel structures. His life size elephant sculptures 'Ellie and Billy' saw Matt become the proud owner of a 'People's Choice Award' at Melbourne's prestigious International Flower and Garden show in 2017. The abstract sculpture is made up of over 200kg of Corten Steel, collectively. The piece aims to capture the beauty and magnitude of the gentle giants. 
THE CROWNED STAG – http://www.sanderson-sculpture.com/projects/stag-sphere/ 
Mathew Lane Sanderson is a British metal designer and craftsman, with over 50 permanent installations across the UK. His most recent sculpture, The Crowned Stag, is on display at an up-coming housing development in Chelmsford, Essex.
The structure depicts the reflection of a regal stag, standing beneath a falling tree. It was commissioned to tell the story of the lands prior owner, King Henry V111, and to add a functional art work to decorate the surrounding landscape. The intricate, spherical sculpture is constructed from 6 tonnes of steel and zinc and stands tall at 10 meters. 
PARADIGM (2016) – http://conradshawcross.com/blog/project/paradigm-2016/ 
London born and bred Conrad Shawcross experiments with geometric designs, to create ambitious structures on an epic scale. His sculptures are generally based on philosophical and scientific theories.
Paradigm was a piece commissioned by the Francis Clark Institute. Standing at 14 meters, it is one of the tallest public sculptures in central London. The design is a metaphoric illustration for the potential to grow, advance and discover. The structure is made from weathering steel, to support the industrial heritage of the Kings Cross area.
DISC FRAGMENT – http://www.jonathanprince.com/sculpturenews/2016/9/28/jonathan-prince-installs-monumental-work-at-brigham-and-womens-hospital 
Jonathan Prince is an artist who focuses on metal sculptures made from stainless and Corten steel, aluminium, bronze and granite. He works on a massive scale and has had installations featured at many high-status exhibitions such as '590 Sculpture Atrium' on Madison Avenue, and Christie's Sculpture Garden in New York City. Disc Fragment is now permanently homed at the at the research centre for Brigham's and Women's Hospital in Boston.
The project was overseen by Cynthia Reeves and Prince's work was the first pick from the hospital's board. The project requirements stated that the sculpture should be 'uplifting, thoughtful and timeless'. Disc Fragment ticked these boxes. The piece demonstrates the beauty in breaks, scars and tears, and the elegant, spherical design matches the criteria for an installation that will not go out of fashion.
OLYMPIC HORSES – https://www.tomhillsculpture.co.uk/copy-of-horses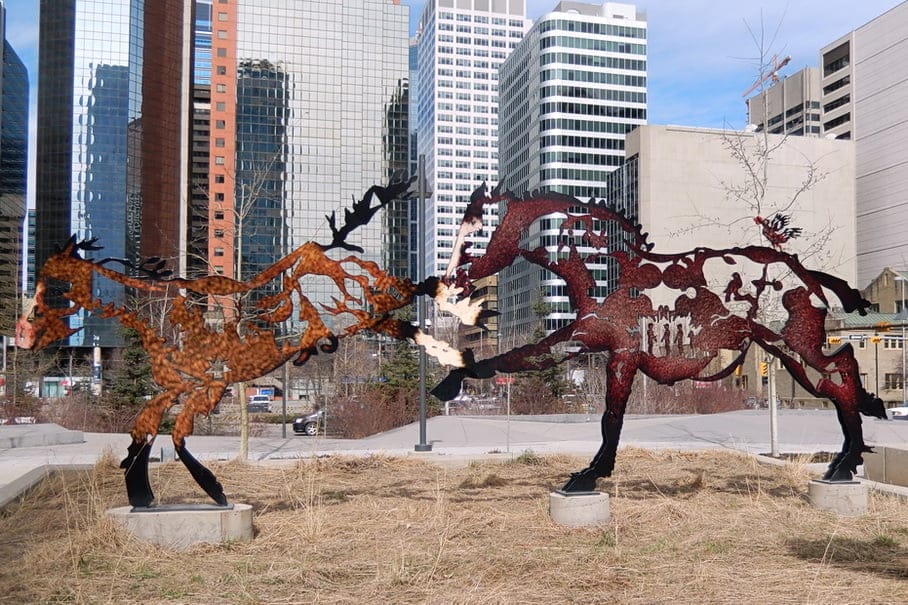 Tom Hill is a self-taught, British sculptor who uses unique recycled materials to craft his life size installations. The Olympic Horses are crafted entirely from old horse shoes – a fitting medium for the brief. Once a novice sculptor, Tom's natural flare for artistry has progressed him from a part-time hobbyist, to one of the most sought-after sculptors in the UK. His work has received attention on an international scale, and his most famous piece, the Olympic Horses, exhibited at the London 2012 Olympics.
After the games, the installation was displayed at the Queens Greenwich home, prior to being sold at auction for an impressive £70,000! Tom uses traditional tools including a gas forge, anvil and a hammer alongside welding techniques to heat and manipulate the curvature of the horseshoes to form his renowned installations.