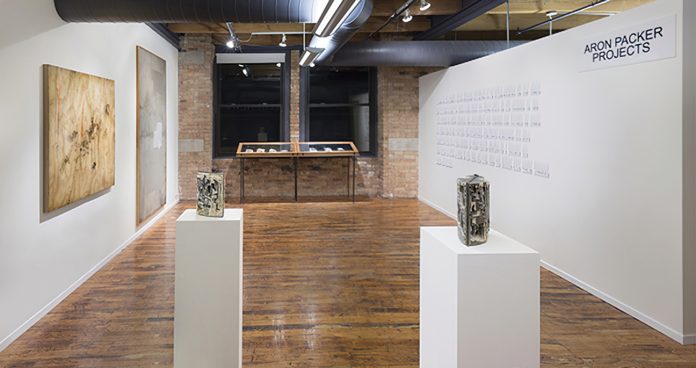 What is Aron Packer Projects all about?
Aron Packer: Let me start with the old philosophical thought: "If a tree falls in a forest and no one is around to hear it, does it make a sound?"
This is what Aron Packer Projects is about at the moment. Hoping to get people to come to hear my falling tree! I am standing (mostly) by myself in this forest with my ax … chopping away at the perception that I am no longer in business. I am as busy as I ever have been in many ways … and wanting to get collectors and folks in general to visit my "permanent pop up" space in River North. It's the best thing I can call it for now, and I'll still be in this same spot chipping away into the fall. It's right near Chicago and Wells just two short blocks from all the main River North galleries. I'm in the office of Chicago Gallery News which is at 213 W. Institute Place #309. One can visit my space 5 days a week. Saturday is the best day as my assistant is there or I am there. On weekdays the folks at Chicago Gallery News are happy to let visitors in to see the show. Call 312.649.0064 for an appointment.
To be honest nothing has changed. I still am passionate about the artists I show although my space is just smaller. It's almost the same size as my first space when I was in Wicker Park. Full circle right? I still champion offbeat artists and enjoy artists working in unusual materials. Contemporary scrimshaw, sculptural altered books, surreal and meticulous painting, and poetic found object sculpture are a description for the last 6 months of shows we have done. Coming up in June we feature Ben Blount showing some subversive/historical letter press work fresh from a residency in Wisconsin at the Hamilton Wood Type and Printing Museum. They have the largest collection of type in the WORLD! This is something I've not done before.
I also have a few things that I am working on that fit in the definition of projects. Other shows at other spaces are always in the works if I see the right fit , I need to get an interesting job as I no longer work at Leslie Hindman. I have a few odd books I'd like to get printed in a comic form of vintage "lady wrestlers" along with WeeGee-esque perp walk photographs, with related shows that go with the booklets. I will be joining the board of a not for profit press in Chicago as long as I don't leave town for a job. As my avocation I play banjo in a band called Sinner's Friend. The guitarist Michael Dinges shows with the gallery, the fiddler Claire Halpin is an architect with Studio Gang, and Quinn Kearney our tabla player owns Yogaview..
There's always more to say, but in the words of Lee Groban, "that's all for now."
About Aron Packer
Starting in the late 80's as an American folk art dealer, Aron Packer built his early career focusing on outsider and non-traditional art. His venue was an apartment gallery for many years, and he became known for a broad yet unusual vision. He added contemporary art and established his first public gallery in 1992 in Wicker Park, joining an alternative gallery scene that included Beret International, Ten in One, and Oscar Friedl Gallery. As business forces changed over the past 25 years, Packer migrated to locations in River North and the West Loop, continuing to expand his notable group of artists. In 2015 he closed Packer Schopf Gallery on west Lake Street to pursue a lifestyle change. Currently Aron Packer Projects has a permanent pop-up space in the offices of the Chicago Gallery News through Fall 2018. The Gallery lives on!