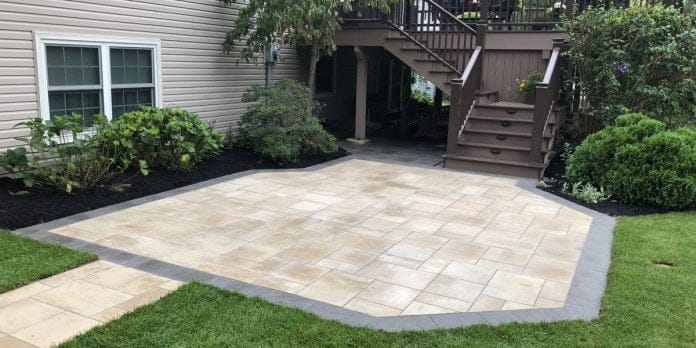 Sunny days invite us outdoors to sit and enjoy the sunshine or dine outside in the evening hours. It raises the need for an outdoor patio and Landscape area. Having a patio fitted into your home is worth the investment for a gorgeous new look and feel to your outdoor garden area.
Paved patios are durable, aesthetically appealing, and are a low maintenance material. If you are going to invest in a paved patio, here is our helpful guide to the advantages and disadvantages of paved patios.
Advantages
Long lasting
A surface that is not paved may develop bumps and a muddy mess after rain. It may lead to uneven surfaces which poses safety concerns. Paved patios are long lasting once installed correctly and maintained on a regular basis. A paved patio should last at least 20 years once it is looked after.
Longevity is one of the main advantages of paved patios. Concrete, stone, asphalt are some of the most durable paving options that are long lasting. Regular maintenance such as filling in gaps and cracks can prevent further damage and save you from having to spend a lot of money even after various weather conditions.
Low maintenance
Patio paving is the ideal patio material as there is very little maintenance needed. They do not require sealing or staining to protect them from the harsh weather conditions. If the patio becomes damaged, you can replace pieces without disturbing the pieces near it. Once the paving is installed correctly, it should continue to offer extreme durability.
Customisable
Many people use paving to make patios as it's available in a wide range of colours, materials, shapes, and sizes. Paving gives homeowners the scope to produce a unique and attractive patio in their outdoor garden area.
Patio paving is available in different materials including concrete and clay brick. You can make a patio with 1 kind of material or use several materials and colours to make a bold pattern.
Creating your own unique patio outside in your garden will give a whole new dimension to enjoy. There are many different patio paving options to choose from. Whatever design you have in mind, here are some options you could do.
Paving slabs are large paving stones that are commonly used in paths or patios. They are a great way to cover a bigger space more efficiently and create a clean look. Paving slabs are available in various packs, like single size packs or multiple packs to create a more unique style.
Paving blocks are shaped like bricks and are commonly known as block paving. They're thicker and smaller than slabs so they are ideal for decorative edging around patios. You can buy paving blocks in single or mixed sized packs depending on what you want your patio to look like.
Carpet stones are stone cobbles that are laid onto an adjustable mat that you can trim to the shape and size you want. They offer a simple way to achieve a cobbled rustic look without laying each stone on its own. Carpet stones are ideal for awkwardly shaped areas such as around a pond in your outdoor area and curvy garden paths.
Easy to Repair
Paved patios are easy to repair, this is due to them having lots of small parts. Rather than replacing the whole thing or doing patch up work, all you must do is replace the broken paving parts. This will also save you money, time, and keep your patio looking aesthetically pleasing. Expansions and changes can be done in such a way that they are indistinguishable from the original space. The ease of additions and repairs means these changes are more economical than with poured concrete.
Paved patios are better in seasonal changes and varying climates
The winter weather can affect your patio. In the winter months, when the moisture in the ground freezes and thaws, the ground contracts and expands. When pavers are installed, they fit together piece by piece so there are more seams across the pavement surface. This will allow the pavement to flex individually, and when the expansion recedes, it will then go back into its original position. Once proper construction is performed, there should be minimal movement.
Disadvantages
More expensive than other options
Patio paving can be on the expensive side compared to other options such as concrete or natural stone. A paved patio will cost you a lot more than gravel. If you are on a small tight budget, a paved patio may not be the option for you.
The installation costs at the beginning will be higher however, you will still save some money in the long run as it will cost less to maintain the paving compared to other patio options. An extra cost factor would be the equipment and the materials needed to install the patio. These are all additional costs to the actual paving's which makes the initial investment higher for a paved patio.
Longer installation
Because of the installation process, it takes a lot longer to install a paved patio, from start to finish at least 3-5 days. Installing paver patios is more in depth than other types of patio options. Here is a brief run-down of paved patio installations.
Grass/dirt must be removed from the installation area
The subsoil should be leveled out in the area
Pour the gravel and level the area
Install bedding sand
Install the paving
Lay out and hold the edging in place
Fill in the joints
Clean and seal the patio
Once the patio is installed you can walk on it immediately.
Paved patios are prone to growing weeds over time
Patios consist of individual small pieces forming slits between those individual units. Sand can fill the joints but can easily get washed away with rain or regular cleaning. Weed seeds and other debris will work their way in instead and overtime takes over the paving. Weeds will spoil the look of your patio. It can boost the wears and tears processes and damage the patio material in the long run. It is essential to top up sand in the joints to prevent weeds and debris from growing.
They are delicate
Unfortunately, some paving types are fragile and delicate. They can crack or break under intensive pressure. if you want to place furniture or heavy items like BBQs, then always make sure the patio is strong enough to handle this. In extreme temperatures or weather, the patio will be susceptible to cracking.
How to clean your patio
Cleaning your patio on a regular basis will maintain it and keep it looking its best. By brushing the paving regularly, it will keep the surface clean and clear of debris. The staining and dirt will begin to build up over time.
Clean your patio with warm soapy water. Scrub the area with a hard bristled brush. Rinse with water and leave to dry for 24 hours.
Use a pressure power washer to clean your patio. This would be one of the easiest ways to clean patio slabs and paving. Start on a low setting first, you don't want to damage the patio with high power.