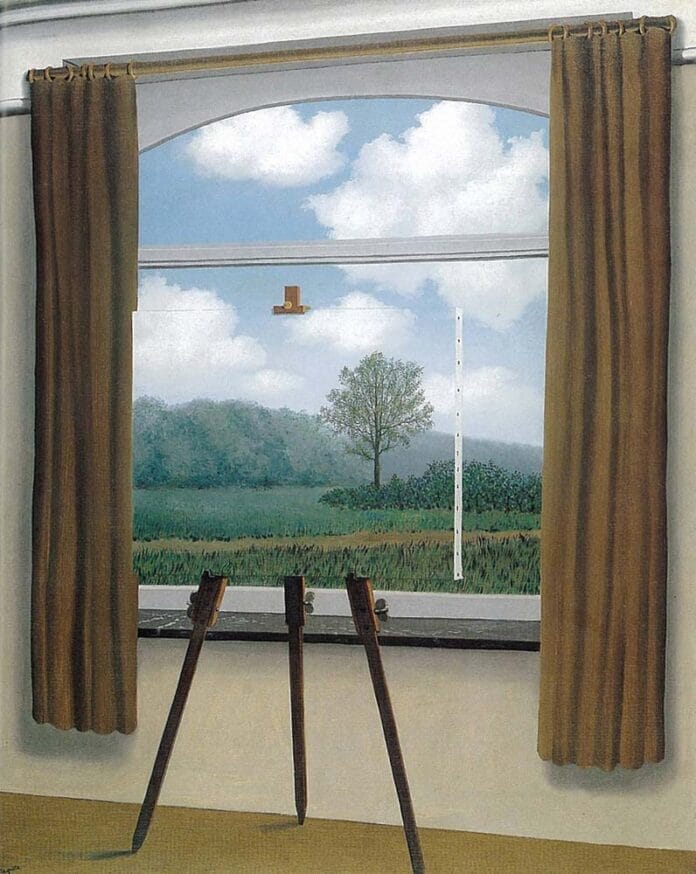 The naturalistic yet idiosyncratic style of the Belgian artist Rene Magritte (1898-1967) attracted great acclaim during his life and has been heavily plagiarized since.
A leading exponent of Surrealism, his individual, witty and thought-provoking images that present strange juxtapositions of ordinary objects challenge viewer's preconceptions of reality.
To support himself he spent many years working as a commercial artist, which had a lasting influence on advertising as well as Pop, Minimalism and Conceptual art. Apart from a brief digression of style during World War II, he always remained true to Surrealism.
Little is known about Magritte's early life. In 1912, his mother committed suicide by drowning.
When her body was retrieved from the river, allegedly, her dress was covering her face and images of people with white cloths obscuring their feces appear in several of Magritte's paintings. He studied art at the Academie Royale des Beaux-Arts in Brussels from 1916 to 1918.
He then worked as a wallpaper designer and commercial artist, producing paintings in his spare time that were influenced by Futurism and Cubism. After 1920, Magritte discovered the work of De Chirico and he began working in his Surrealist style, which has an illusionistic, dreamlike quality.
In 1925, Magritte helped produce some Dadaist magazines with artists including Jean (or Hans) Arp (1886-1966), Francis Picabia (1879-1953), Kurt Schwitters (1887-1948), Tristan Tzara (1896-1963) and Man Ray (1890-1976). Magritte moved to Paris in 1927, where he became a leading member of the Surrealist movement.
Focusing on the development of thought, Magritte's odd juxtapositions raise questions about the mysteries of existence.
His men in bowler hats have been interpreted as self-portraits, while other images suggest that the inexplicable lurks in the most unexpected of places. Here, a canvas on an easel depicts a landscape that looks identical to the landscape seen outside the window. Magritte painted several versions of this theme.
The view outside the window is real while the painting on the easel is a representation of reality and so the image raises the question of what is real and what is not.
Smart Tip : Enhance your artistic skills by accessing your essential graphics design software on any device by loading it onto a hosted xendesktop available at an affordable xendesktop cost. Now you can also enhance your productivity by accessing complete MS office suite on the same xendesktop by visiting O365CloudExperts.com.