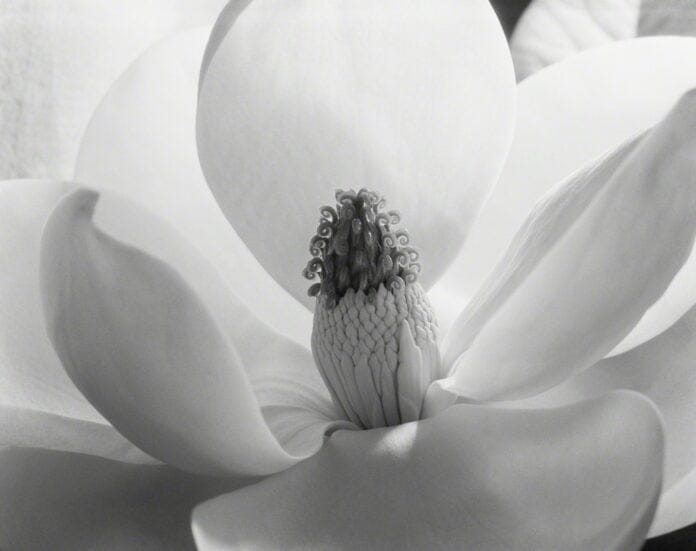 In the first decades of the 20th century, a small group of US photographers rebelled against the Pictorialist images that were popular in camera u clubs and salons of the day.
Rather than imitate the look of charcoal drawings or heavily inked prints, these modernists argued for graphic, black-and-white photographs full of texture and detail. Instead of allegorical or symbolist-inspired subjects, they chose to focus their cameras on everyday things.
Alfred Stieglitz (1864-1946) became the modernists' spokesman and great supporter, although he had founded the Photo-Secession and was an early promoter of Pictorialism.
His proteges—Charles Sheeler (1883-1965), Edward Steichen (1879-1973) and Paul Strand (1890-1976) on the East Coast—and their West Coast counterparts Ansel Adams (1902-84), Edward Weston (1886-1958) and Imogen Cunningham (1883-1976)—took up large-format cameras and revelled in the spectacular clarity and gradations of tone they were able to achieve.
During the 1920s, Cunningham produced a pioneering series of close-up botanical subjects, of which Magnolia Blossom (above) is the best known. With its luxuriant natural light, extreme perspective and tight cropping, the image captures in microscopic detail all the elements that make up what she liked to call 'the innards' of the flower.
Weston also made a group of close-up views of quotidian objects, such as fruit and vegetables, during the 1920s, and his Pepper #30 is widely thought to be the masterpiece of the series.
He resolved to create photographs that could 'truthfully represent natural objects [without] trick, device or subterfuge' and in 1932 he became one of the founding members of Group f/64, a loose-knit group of photographers from San Francisco's Bay Area with a shared commitment to large-format cameras and unmanipulated, sharp, "straight" prints.
The f/64 name referred to the aperture setting that allowed for maximum sharpness and greatest depth of field, and the group's manifesto argued for the use of 'purely photographic methods' The original members of this short-lived collective included Cunningham, Adams, Willard van Dyke (1906-86) and Sonya Noskowiak (1900-75) among others. They also invited a few like-minded photographers to join them in their groundbreaking exhibition at San Francisco's M. H. de Young Museum in 1932, including Consuelo Kanaga (1894-1978), who developed a particular interest in documenting the lives and faces of African Americans.
Perhaps the most outspoken advocate of straight photography on the West Coast, however, was Ansel Adams. His technical tour de force, Moonrise, Hernandez, New Mexico (below), was taken only a year before he formally codified the method of exposure and development he called the Zone System.
Adams was driving along the highway towards Santa Fe under the rising moon, when the small town and white cemetery crosses caught his attention. Acting quickly, Adams stopped and frantically set up his camera. He despaired when he could not find his light meter, but then remembered the luminance of the moon and used that to estimate his exposure.