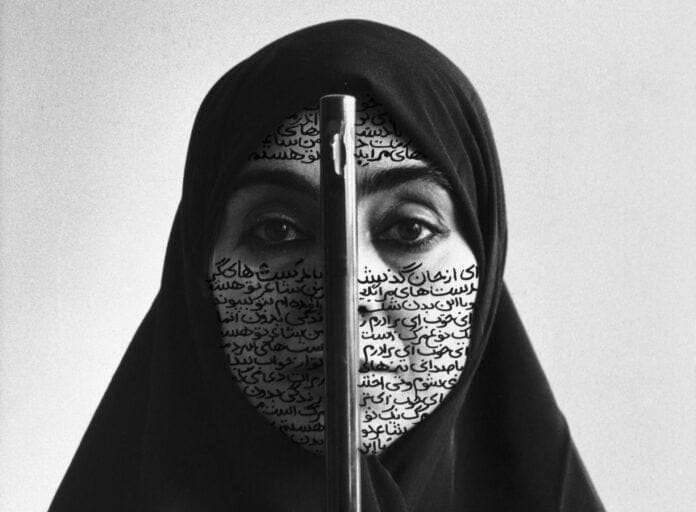 In the image the woman gazes with dignity past the barrel of the gun that she is holding, proud to be wearing her veil as a sign other religious and cultural identity and willing to protect that identity at all costs, although potentially melancholic about the need to do so.
Neshat says: 'Despite the Western representation of the veil as a symbol of Muslim women's oppression, the subjects of these images look strong and imposing. In fact, the use of the black veil as a uniform has transformed the feminine body into that of a warrior, determined and even heroic.'
Like many artists investigating the issue of identity from the late 1980s onwards, including Lorna Simpson (b.1960)—creator of The Waterbearer — Neshat chose to incorporate text into her photography because of what she saw as the limitations of a purely visual language. In the image above, as in much of the Women of Allah series, she includes Farsi text, taken from prose and poems written by contemporary Iranian women.
Her placing of this on the woman's face—the only part of her that is visible—acts as a reminder of the intertwined and indivisible nature of individual and cultural identity. Meanwhile, Neshat's use of a script that is indecipherable to most people in the West has the effect of placing Westerners as the "other".