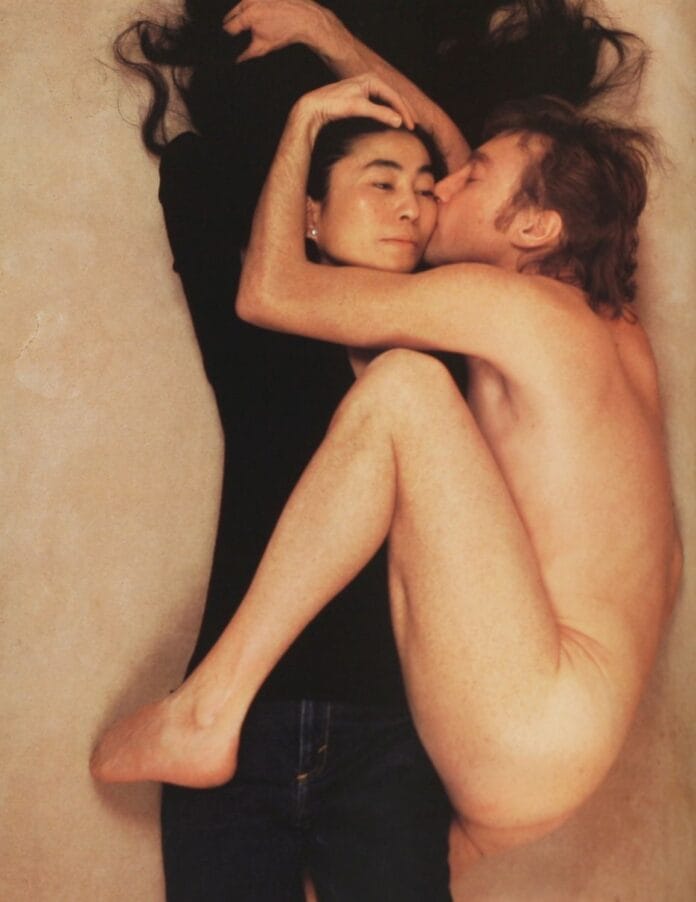 Celebrity portraits, such as those by Annie Leibovitz (b.1949), who was named the most influential living photographer by American Photo magazine in 2005, rely on the idea that they reveal the real person behind the facade.
Images such as Leibovitz's candid shots of The Rolling Stones during their tour in 1975 and the photograph John Lennon and Yoko Ono (1980) — which, in 2005, was named the best magazine cover from the last forty years by the American Society of Magazine Editors—are revered mostly for how much they disclose about their subjects.
Likewise, paparazzi photographs, such as those of a newly bald Britney Spears attacking the press in 2007, rely for their effectiveness on the idea of access to the 'real' self behind the public persona. However, scholars have been challenging the notion of a stable selfhood since the early 20th century and, by the end of that century, the idea of an authentic, unified self was under full-scale attack—denounced as an ideological construct and replaced by the idea of multiple, shifting, fictionalized selves. Contemporary portraiture and self-portraiture, as found in photography destined for the gallery wall, tend to oscillate between these two standpoints.
The celebrity portrait tantalizes the viewer with the notion that it might reveal the real person behind the facade of fame The power of this promise is amplified in Annie Leibovitz's John Lennon and Yoko Ono because it was the last time that Lennon was ever photographed. Five hours later, he was shot five times at point-blank range and killed.
The story of the making of this photograph fuels the myth of the telling' celebrity portrait. On the afternoon of 8 December 1980, Leibovitz was doing a photoshoot with John Lennon and Yoko Ono at their apartment in the Dakota building for Rolling Stone magazine. Rolling Stone had asked Leibovitz to get a picture of Lennon alone, but he was determined to include Ono. Consequently, John Lennon and Yoko Ono became not only the last photograph of Lennon, but also a tribute to one of the best-known relationships of the period. Indeed, later, when discussing it, Ono asked, "Why wasn't I told that John would be taken away? That's what I think when I see it."
However, that morning the mood was playful. As they looked over the Polaroids, Leibovitz remembers that Lennon immediately picked this image out of the pile and said, 'You've captured our relationship exactly. Promise me it will be on the cover.' The photograph did indeed make the cover of Rolling Stone, although in a way that none of them could have anticipated.
It graced the memorial issue to Lennon on 22 January 1981.
Traditional self-portraits often reinscribe the salutary fiction of a coherent ego. However, in the work of photographer Francesca Woodman (1958-81), who committed suicide aged only twenty-two, the viewer is presented with a form of theatre in which selves constantly fracture and shift as the subject is shown reflected in mirrors, out of focus and partially concealed, such as in her Self-deceit #1, Rome (1978). It is hard to resist searching for evidence of a troubled mind and clues to her untimely death in her ethereal photographs.
The limits beyond which a face no longer looks like a face—what novelist J. G. Ballard described as the "tolerances of the human face" — are challenged by the artist Chuck Close (b.1940). Close has used his own image more than any other subject matter. In the last forty years, Close has appeared as a sketch made with fingerprints, a pixelated painting, an acrylic grid, a grisaille mosaic of paper pulp, a shimmering daguerreotype and much more. He states, 'The object… is not just to make a picture, but to lay bare what a picture is made of.'
He also experiments with size: displaying himself both in monumental proportions and in miniature. In 9 Part Self-portrait he uses Polaroid's large-format 20 x 24-inch (51 x 6i-cm) camera and builds a supersized collage at 70 x 61 inches (178 x 155 cm). Where the Polaroids line up and overlap, they create fissures that rupture and realign the surface. Yet despite Close's attempts to attenuate his facility, his self-portraits still read as faces: 'The thing that interests me,' he says, 'is…how I can present so much flat information and still have it become worked into something which has life experience in it.'
Although postmodernist (and modernist) critiques have exposed the notions of photographic reality and physiognomy as highly suspect, Close's work reveals just how impossible it is to shake our human faith in securing meaning and depth from surface.
Self-deceit #7, Rome, is part of a series of self-portraits titled Self-deceit that Woodman made while on a Rhode Island School of Design honours programme in Rome. The title questions the notion of authenticity in the practice of self-portraiture. Indeed much of Woodman's work examines the idea of the self as something performed, rather than revealed.
Each image in this series depicts her enacting explorations of a mirror: alone and naked in the same crumbling-walled room, creeping around, standing on or hiding behind the mirror's polished surface. Self-deceit #1, Rome is the only image in the series in which she shows her face, yet she only reveals a glimpse of it as a reflection. The way in which she portrays her body is, likewise, ambiguous. Naked but cropped by both the wall and the mirror, its movement means that the camera translates it as a spectral flicker caught between space and time.
We are told that Woodman read Proust. His words from The Prisoner, the fifth volume of In Search of Lost Time (1923), aptly describe how she appears in the Self-deceit series:
A person, scattered in space and time… no longer a woman but a series of events on which we can throw no light, a series of insoluble problems.
Despite the vast number of images of herself that Woodman created (at least 500), she remained unreadable and unknown throughout her short life, more a ghostly apparition than someone real.