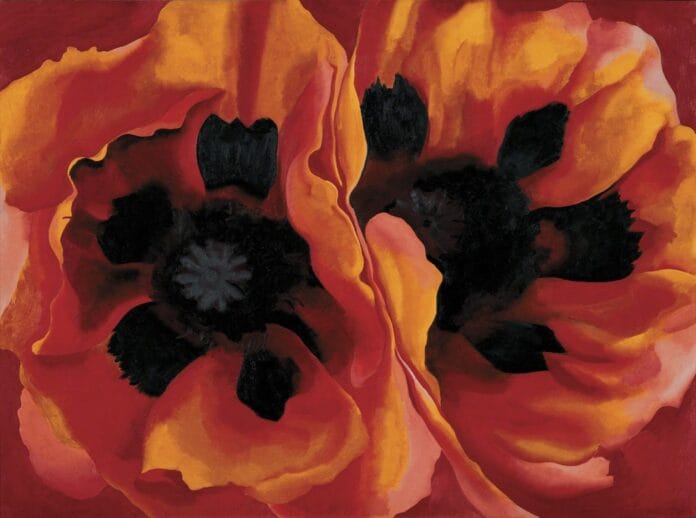 Single-minded and original, Georgia O'Keeffe (1887-1986) was a significant contributor to American Modernism and is regarded as a pioneer of feminist art.
A prolific artist, she produced more than 2,000 works over the course of her long career. Her bold, expressive, figurative art that sometimes borders on abstraction defies classification, although she is often linked with Precisionism.
Born in Wisconsin, O'Keeffe attended the School of the Art Institute of Chicago from 1905 to 1906. In 1907, she moved to New York and studied under William Merritt Chase at the Art Students League. She also visited exhibitions at Gallery 291, which was owned by photographer Alfred Stieglitz (1864—1946) and was one of the few places in the United States where European avant-garde art was displayed.
Her art was influenced by a variety of sources, including Rodin, Matisse, Art Nouveau, Arthur Wesley Dow (1857—1922) and Arthur Dove. In 1915, she read Kandinsky's Concerning the Spiritual in Art (1910) and she began experimenting with Dow's theory of self-exploration through art.
She made some charcoal drawings of simplified natural forms that were brought to the attention of Stieglitz, who recognized her potential and exhibited ten of the drawings at his gallery. Stieglitz helped her financially to leave teaching and they eventually married in 1924.
O'Keeffe created richly coloured large-scale paintings of natural forms at close range and of New York skyscrapers as well as other architectural forms. This vibrant work was one of many large paintings of flowers in close-up that she produced in the early years of her marriage. Confident, fluid lines draw together her dramatic colour palette and innovative composition.
She described her reasons for painting flowers in close-up: "Nobody sees a flower, really, it is so small. We haven't time — and to see takes time… if I could paint the flower exactly as I see it no one would see what I see because I would paint it small… so I said to myself — I'll paint what I see — what the flower is to me but I'll paint it big and they will be surprised into taking time to look at it. Even busy New Yorkers will take time to see what I see."