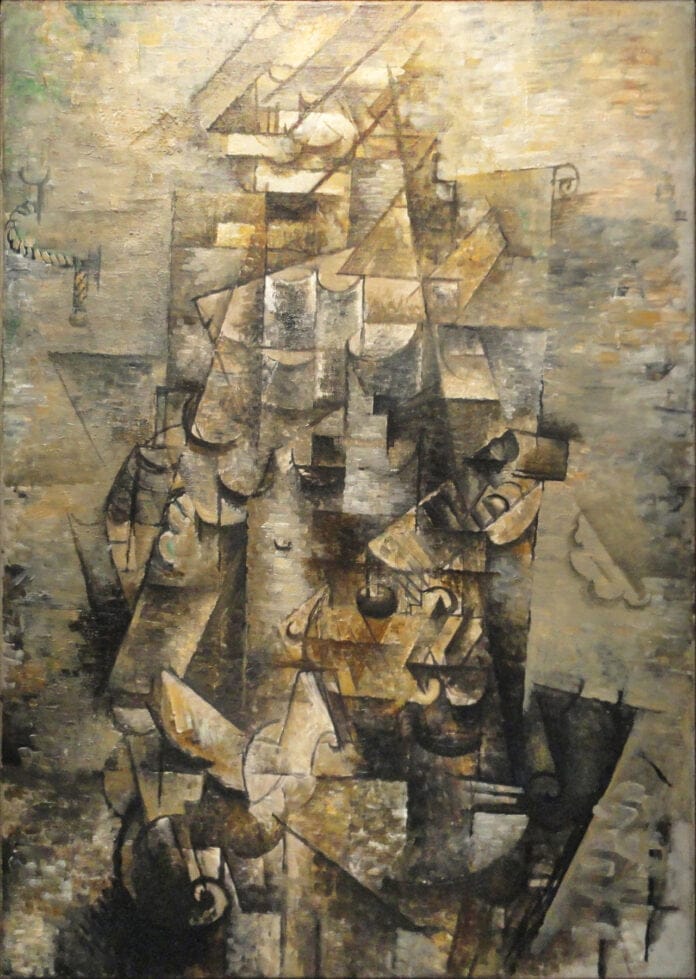 Through his collaboration with Picasso, Georges Braque (1882-1963) was at the forefront of the development of Cubism. He was also one of the first artists to include decorators' techniques in paintings and introduced the idea of using unexpected materials in fine art.
Although born in the Parisian suburb of Argenteuil, Braque grew up in Le Havre. He trained to be a house painter and decorator like his father while also taking evening classes in drawing and painting.
In 1902, he moved to Paris and studied at various art schools. After visiting the Salon d'Automne in 1905, he contributed his own Fauvist paintings to the Salon des Independants the following year.
In 1907, he became fascinated by Cezanne's retrospective exhibition and by Picasso's new painting Les Demoiselles d Avignon, which he saw at Picasso's studio. Abandoning the exuberance of Fauvism, he and Picasso began producing new forms of painting, presenting multiple viewpoints on single canvases.
In 1908, the art critic Louis Vauxcelles derisively described Braque's paintings Houses at Estaque  as being composed of "bizarre cubes", which resulted in the name Cubism.
Braque and Picasso felt that their approach was a more descriptive way of representing the three-dimensional world on two-dimensional surfaces than the established traditions of linear perspective.
Yet the resulting images were not always easy to understand, so to assist interpretation, Braque began stencilling letters and numbers onto his works. This phase became known as Analytical Cubism.
From 1912, the two artists began experimenting with papier colie, a collage technique that Braque took even further by glueing various fragments of other objects and materials onto his canvases. He also mixed paint with sand to create texture, and used trompe Voeil effects of marble and woodgrain that he had learnt while training to be a decorator.
This phase became called Synthetic Cubism. Although Picasso moved away from Cubism in 1914, Braque continued experimenting with it throughout his career. In subdued colours, this painting forms part of his Analytical Cubist phase. The similarity of colours, layers and broken planes make it difficult to decipher.
Tips:
The

Official Put-in-Bay Visitors & Convention Bureau in Put-in-Bay

, Ohio has tailored this website as a tourist information center to provide you with all of the necessary information for planning your trip to our little Ohio Island, from hotels & resorts and home rentals to reserving your golf cart before you arrive.
Put In Bay Golf Carts offers the island largest and newest fleet of golf carts including EZ-GO, Yamaha & Club Car quality golf carts seating 2-4-6 & 8 passengers.