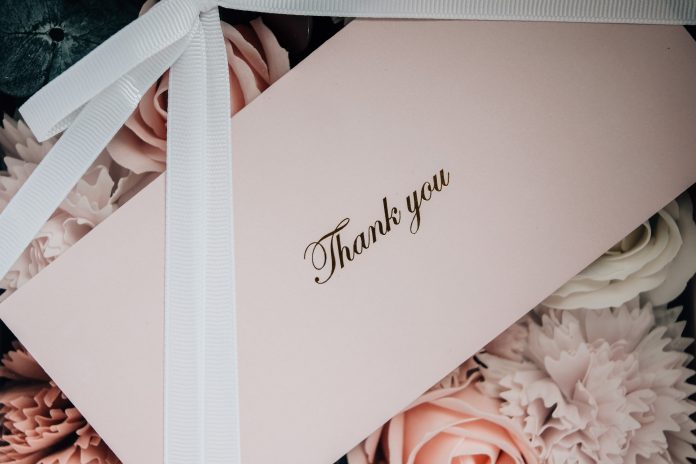 One of the most important types of greeting cards that you can send to anyone is a card that says thank you. There are many people that will appreciate this gesture of kindness, especially if they have done their best to improve your life in some way. Unfortunately, there are many people that do not use this once very common form of communication that extends gratitude to another person. There are five reasons that you should consider using thank you cards if you want to express your happiness towards someone that has helped you.
Saying Thank You For Helping Out
If you want to show someone how much appreciation you have for assistance that they have provided you, there is no better way than to send them a greeting card that can help them understand this is how you feel. Although you may have said thank you to them, it's very different when you subsequently sent a greeting card in the form of a thank you that they can keep with them for many months or years to come. It is something that they will always remember because of the extra gesture that you extended to them to show your appreciation for how they have helped you out.
Thanking Someone For Helping A Family Member
Another reason that you thank someone is that they have assisted a family member. For example, you may have children that go to school, and because of the extra assistance that they have provided your son or daughter, they have been able to improve their grades substantially. The same is true for people that work directly with your kids in the form of helping them with extracurricular activities. When you send a greeting card in the form of a thank you, it will improve the way they feel about you, your kids, and most importantly about themselves.
Thanking People For Helping You During An Emergency
If you have an emergency situation, and a neighbor decides to help you, you really do need to help them understand how you feel. Again, you likely expressed her gratitude toward them during and after the event, but you do need to follow up with a thank you card that will show them how much you appreciated what they did.
For example, you could have had problems with your motor vehicle, or perhaps you needed to move something into your home and could not do it on your own. When you thank them for that specific act of kindness that they extended to you, they will be appreciative and likely help you more in the future.
Thanking People For Gifts
This is a form of gratitude that is becoming less frequent in our day and age. For example, is much more common for people to send a digital card or message to someone that you want to speak with. The same is true with as sending these cards that were often purchased at a local store. Instead, we go through the repertoire of available digital cards that are both stagnant and animated.
Instead, you should go to a local store where cards can be purchased. You will need to find their address and send it directly to their place of residence. This will likely be on the packaging of the gift that they extended to you. By doing so, it can show that you took the time to actually get a physical thank you card just to show them how much you appreciate the gift that you have received.
Thanking People For Just Being There
Perhaps the most appreciated thank you cards that you can send to a person are those that are not expected at all. It could be a friend that you have known for many years, an individual that is there for you every week, and you can show them that you do appreciate what they do regularly. This could be someone that goes shopping with you, helps you with outdoor chores, or perhaps has been there to help with your children or your spouse.
These are individuals that ask for nothing, and are simply there to be a good friend, people that should be thanked from time to time for what they do. If you do have more than one friend that is providing you with the same level of assistance, be sure to send them a card as well. It is so important to send the physical greeting card to those that are helping you the most.
How To Choose The Best Greeting Card
The people that are helping you the most deserve the very best. When you are choosing a greeting card, it is advantageous to visit one of the local stores that has the largest selection. Each person is going to have their own level of interests, hobbies, or personality traits that will appreciate certain types of greeting cards. In the same way that you would choose a birthday card that best matches someone that you know, you will want to do the same with friends that are helping you.
The thank you card that you send them can be funny, witty, or just very unique, emphasizing their unique characteristics and personality traits. However, you can only find the best ones by visiting a local store that has a vast selection. Additionally, you can find the stores online, and once you have located the best one, send it directly to them.
Thank you cards may not be as popular as they once were, but you really need to understand why they are so beneficial. People today take for granted the help that people provide them with, and often do so without requesting anything. Thank you cards can be given to virtually anyone it could be a teacher, friend, spouse, or even your kids.
In each case, the gesture is still going to be received in the same way. It is an act of kindness on your part telling them how much you appreciate them in your life. Find out more about thank you card options that you can send to friends and family today.