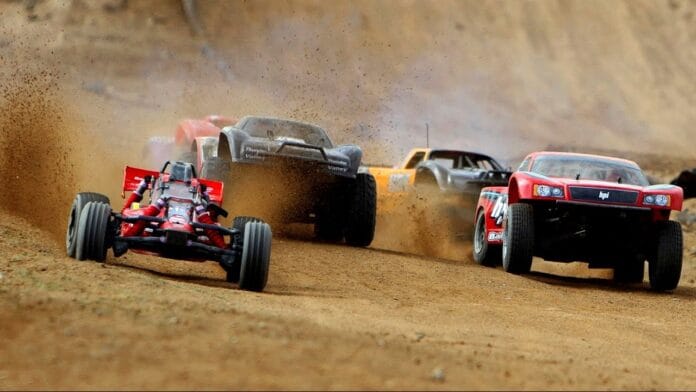 Radio-controlled cars have now been around for fifty years. Ever since the 1/12 scale Ferrari 250LM made its appearance in the UK in 1966, followed by the 1/10 scale Ferrari P4 in 1968 (both manufactured by the Italian company, El-Gi), the RC car market has flourished, fed by a universal enthusiasm for building, driving, and maintaining these perfectly formed miniature vehicles. Over the past five decades, a lot of RC-related memories have been made.
We talked to three enthusiasts; Lee (38), Alan (51), Peter (47), and Theo (13) about their early experiences with Radio-controlled cars, and they were kind enough to share some of their early memories with us.
Lee (Norwich, Norfolk)
It was Christmas 1987, and eight-year-old Lee was holding a 1/12 scale silver Audi Quattro, shiny and new, and ready to drive. Lee had wanted a radio-controlled car for ages. Lots of the boys at school had them, and he'd had a go with his friends' cars, but he was desperate for one of his own.
Lee knew that the real, full-sized Audi Quattro, combining a four-wheel drive system with a turbocharged engine, was a contemporary heavyweight in the world of motor racing. Lee's new toy proved to be a heavyweight in the energy-guzzling department, and Lee's parents soon discovered that the four AA batteries and the six (yes, six!) C batteries were costing a fortune to keep replacing. So it wasn't long before Lee's dad bought him a battery charger and some rechargeable batteries.
Lee and his friends loved to race their model cars on the derelict site of the former Pockthorpe Brewery, driving them over ramps fashioned from bricks and planks. Looking back, Lee can't remember ever tiring of this game.
A year or so after becoming the owner of his first RC car, Lee made the most important business deal of his young life: he traded in his bike for a massive RC Jeep, owned by a boy who lived two doors down. This monstrous vehicle, which could easily reach a speed of 40 miles per hour, was the envy of all Lee's friends. The only problem with this wonderful toy was that it drained the rechargeable batteries in about five minutes – the batteries that took three hours to recharge!
Lee had spent a lot of time fiddling around with RC cars, and had accumulated some knowledge of electronics. Without any help from an adult, the little boy made a battery pack for the Jeep, so that he could get more running time out of it. Six months after trading in his bike for the Jeep, Lee swapped the Jeep for another bike – a much better bike than the last one!
When he left school, Lee qualified as an electrician.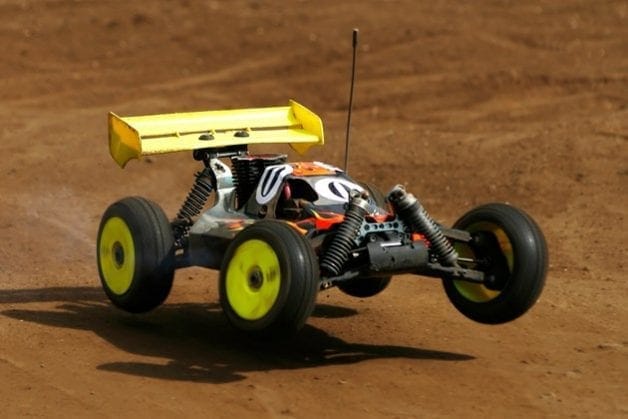 Alan (Faversham, Kent)
In 1982, when Alan was 16 years old, his next-door neighbour, Ron, set up the Faversham Off-Road Car Club. Every Wednesday evening, Ron would set off with his RC car to the local school, where the club was held at that time. Ron could see that Alan was interested, and he invited him to go along.
Alan was immediately obsessed. He went to the club every week, and saved up his wages from his weekend farm job until he could buy an RC car of his own. His first car was a four-wheel drive Kyosho Optima, first produced in 1983.
Faversham Off-Road Car Club is still going strong, with around 35 members turning up on a club night. Now 51 years old, Alan is one of only two original members, but many others have been a part of the club for more than 20 years. Alan is the current chairman, and actively encourages children to take up the hobby.
Alan has seen young people leave the club to go off to university, and return some years later with a child of their own. He has witnessed in many young people a developing interest in electronics, due to the nature of RC car operation and maintenance. Just like Lee, some of these individuals have gone on to pursue a career in electronics or mechanics.
Peter (Lowestoft, Suffolk)
Christmas 1976. Peter was nine years old. Father Christmas had brought him the most wonderful gift he could wish for – a radio-controlled 1/10 scale Porsche 934, made by the Japanese company, Tamiya.
However, this car wasn't a ready-to-run toy. It was a model assembly kit, and the box said, quite clearly, "Not suitable for children under 14 years." Peter's dad took charge, and while the frustrated nine-year-old looked on, the happy 35-year-old built the car.
When the car was complete, Peter felt hopeful; maybe now he'd get to play with his new toy. No such luck! Peter's dad was lost in a wonderworld of recaptured youth, and the Porsche seemed to have transported him far away from his parental duty.
Peter describes his radio-controlled Porsche 934 as "Dad's best Christmas present ever".
Theo (Sheringham, Norfolk)
Theo won his first RC car at a funfair on Southend Pier in 2012. He was eight years old and didn't share his sister's love of wild rides. While Sophia whirled her way round the funfair on stomach-churning merry-go-rounds, Theo spent his pocket money at the slot machines.
Against all the odds, Theo won himself an RC red mini, and from that moment on, he was hooked. That little red mini lasted for about three years, and when it broke, Theo bought himself a 1/24 scale black Aston Martin. Theo, now 13, and his friend, Sam, like to drive their cars on their driveways at home and around the carpark of the local tennis club. How often? "Every day," says Theo, "but only when I've done my homework."