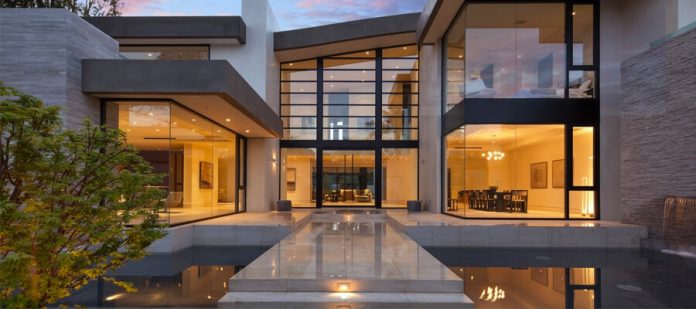 There are so many distinctive characteristics used in contemporary architecture. From the aesthetically pleasing to the highly practical, builders and architects of today aren't afraid to create unique and innovative structures pushing boundaries and including elements that are evolving the way we interact with the buildings we play, live, work in.
Whether you are planning on updating your property or building a bespoke home, it is important to have ideas and plans that you want for your home and that are being used today. Here is a great insight into some of the distinctive characteristics of contemporary architecture.
What is Contemporary Architecture?
According to OC Architects, Contemporary architecture refers to the architectural, design, and landscaping features being used in the present day in the now 21st century. This includes all the new trends, changes to architectural features, the latest innovations, and thoughtful improvements from previous eras.
It embraces all kinds of creativity and eco-friendly features. Aside from employing the different influences and styles, contemporary architecture uses the latest materials and technology. One specific technique is the tube structure, which is used to design buildings that are taller, stronger, and more high-tech than most other buildings from previous generations.
Unconventional Materials
The soul of contemporary architecture is newness, novelty, and transformation. Novelty means experimenting with new things and trying new things that haven't been done before in terms of space, form, materials, and experience. It typically promotes the use of industrial materials or unconventional building materials in a household space.
This form of construction uses organic or natural materials such as brick, concrete, metal, wood, and stone. Most of these materials are sustainable. Ordinary and simple materials are favoured compared to rarer materials such as marble. Simplicity and minimalism are embraced even down to the building blocks.
Flat Roofs
Another key characteristic in contemporary architecture is flat roofs. It is more of a visual choice for many, but it does serve a purpose. For many centuries, a home has been designed and built with a sloped roof in the prevention of ice, snow, and water laying on the roof.
The sloped design helps prevent structural damage as well as moisture damage from the precipitation that has accumulated during the winter months. Today, many architects are building flat roofs accompanied with professional roofers to complete their projects.
Flat roofs are not only modern and aesthetically pleasing, but it is also a very practical choice. Most flat roofs have an overhanging edge which shades the property. The overhanging roof tops reduce the need for air conditioning keeping the indoors cooler during the summer and making the home more comfortable.
The natural shade from landscaping elements can help reduce the costs of energy and lower the carbon footprint in the household. Flat roofs are generally designed with innovative materials such as EPDM rubber or PVC. Flat roofs are useful for both outdoor and indoor spaces.
Natural Light and Large Windows
One key characteristic of contemporary architecture is the use of glass. Today, nothing says peace and luxury like windows from ceiling to floor. They connect flawlessly and let in natural light from the outdoors to the indoor environment. Skylights in a home will create an airy and bright feel.
Glass doors will create a sense of continuity from the living room to the kitchen to the outdoor living space. Contemporary homes have many geometric and modern looking shapes. Square and rectangular windows are simple, unobtrusive panes of glass that are ideal for contemporary designed homes.
Large windows are a real characteristic of contemporary architecture. Unusual positioning and multiple openings, window walls, panoramic windows, and skylights. Floor to ceiling glass creates a feeling of openness and lightness which increases a home's connection to the natural environment surrounding it.
Open and Bright Interiors
Another individual characteristic of contemporary architecture is the trend towards open and bright interiors. With the use of skylights and glass windows, contemporary homes often boast an abundance of natural light. Similarly, they utilise an open floor plan, with minimal or the total elimination of interior walls. With these two combined, you get a comfortable, bright, and completely relaxing home.
With this trend, architects prefer rooms that are open and flow from one to another instead of using walls to define each room in a building. Today, they are designed large open spaces with sophisticated features such as the rooms shape or a curved wall. The 21st century zeitgeist is a prominent feature of homes built in the 21st century. A lot of homes today come with glass balustrades allowing visual and light flow to move freely through a home.
Clean Lines and Environmental Characteristics
A common contemporary architecture piece is the use of clean and curved lines instead of straight lines. Architects who work and design with contemporary are drawn to open living spaces and subtle lines. Eco-housing is a characteristic that isn't restricted. Most conventional buildings use energy-efficient or sustainable elements. In contemporary architecture, these elements are required.
These elements include heat pumps, photovoltaic cells, thermal collectors, geothermal heating, and heat exchangers. These are considered to produce heat in new ways and conserve it. The main goal is to integrate the property perfectly into its new natural surroundings. These elements will give the home a unique character. Energy-efficient design elements include:
Cool roofs – by using a light coloured or reflective material on the roof surface, sunlight can be reflected to keep the building cooler. Cool roof materials include clay, tiles, and slate.
Passive solar – involves roof overhangs and window placement to keep a building warmer in the winter and cooler in the summer.
Solar panels – more homes today have solar panels installed so the home can rely partly or fully on a renewable energy source.
Energy-efficient windows – by installing double or triple glazed windows, contemporary homes are better insulated.
There are many wonderful characteristics of contemporary architecture that are sure to endure for many years to come. From practical elements to fully embracing all the colours, textures, and design features of today. Architecture today is innovative, functional, and creative.