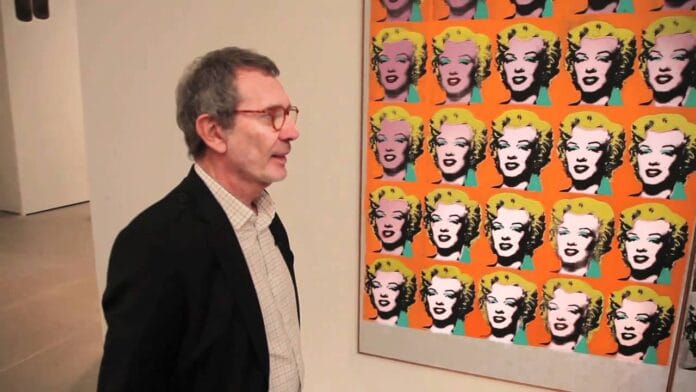 Originally a successful commercial artist, Andy Warhol (1928—87) became the internationally recognized, flamboyant Pop artist Andy Warhol. He challenged basic assumptions of what art is, and what materials, techniques and sources should be used, blurring the boundaries between high and low art.
The third son of Czechoslovakian parents, Warhol was born in Pittsburgh, Pennsylvania. He studied pictorial design at the Carnegie Institute of Technology from 1945 to 1949.
On moving to New York, he worked as a commercial artist until 1960. Then he began making silkscreen prints, photographs and three-dimensional work, based on newspaper front pages, advertisements and other mass-produced images, including household goods such as Campbell's Soup cans, Coca-Cola bottles and Brillo pads, and celebrities including actress Marilyn Monroe and singer Elvis Presley.
From his silver-painted studio he called The Factory, he expanded into performance art, film making, sculpture and books, always exploiting and exploring consumerism and the media.
In 1962, Warhol held his first solo Pop art exhibition in New York at the influential Stable Gallery. It included his prints Campbell's Soup Cans (1962) displayed on a shelf to resemble a supermarket, visually expressing the culture of mass consumption that was seizing the US public.
Using assistants, his detachment in the production of the prints also reflected the ambivalent nature of US society at the time: wealthy or poor, everyone consumed the same products, but class distinctions nevertheless remained firm.
At the same show, he exhibited this work featuring Monroe, which fuses two themes: the cult of celebrity and death. The former is emphasized on the colorful panel, while the black and white panel that blurs and fades suggests mortality.
Made of two canvases, the work references Christian diptychs made for the worship of religious icons, but Warhol has shown Monroe as a grotesque product of the media and a victim of her fame.
Warhol's visual commentary on society's obsession with celebrity and the expansion of mass media was prophetic, and he initiated new attitudes towards art and artmaking that continue to this day.
Tips:
The

Official Put-in-Bay Visitors & Convention Bureau in Put-in-Bay

, Ohio has tailored this website as a tourist information center to provide you with all of the necessary information for planning your trip to our little Ohio Island, from hotels & resorts and home rentals to reserving your golf cart before you arrive.
Put In Bay Golf Carts offers the island largest and newest fleet of golf carts including EZ-GO, Yamaha & Club Car quality golf carts seating 2-4-6 & 8 passengers.