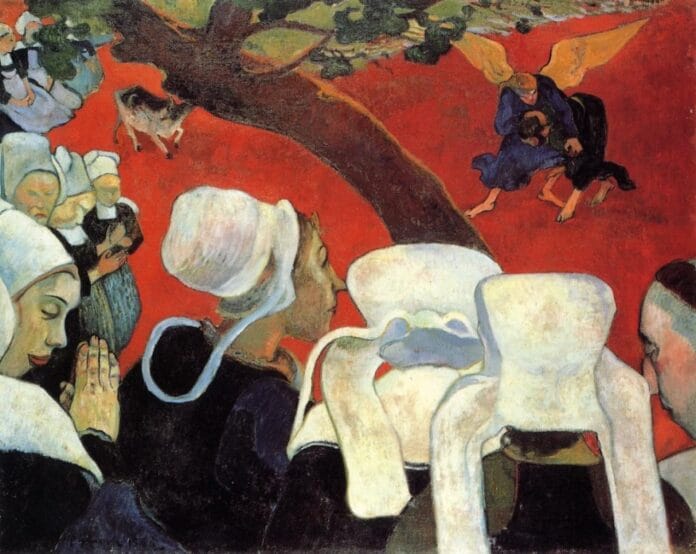 One or the most remarkable artists of the late 19th century, Eugene Henri Paul Gauguin (1848-1903) had a profound influence on the development of 20th-century art. Initially a stockbroker, he left his job when he was in his late thirties, and abandoned his wife and five children in order to pursue his artistic dreams.
As an artist, Gauguin struggled because he worked against popular opinion. After mastering Impressionist methods of depicting light and fleeting moments, he studied religious groups in rural Brittany and, later, landscapes and communities in the Caribbean, while also exploring the latest scientific colour theories.
After spending two months with Van Gogh in the south of France, his new kind of synthetic painting, featuring symbolism blended with colour theories, developed even more strongly.
He labelled his style Synthetism, but it was also called Cloisonnism, to describe the bold, flat areas of colour separated by black lines. Additionally, his style is often defined as Primitivist, which reflects his admiration of the art of earlier cultures from Africa, Asia, French Polynesia and Europe.
He subsequently inspired Les Nabis, which means "prophet" in Hebrew and Arabic, a group of younger artists who followed his approach.
This painting was executed while he was staying in Pont-Aven in Brittany. It depicts a biblical story imagined by pious Breton women in response to a sermon they have just heard. To make clear that this was not a realistic account but a mystical vision, Gauguin made the two sides of the story like figures from a child's book or a stained-glass window, and placed the image on a flat background of brilliant vermilion.
It was his first Synthetist or Cloisonnist painting, with bold, non-naturalistic colours that appear like a cloisonne enamel or stained glass. The subject demonstrates his determination to paint not only what he saw, but also what he imagined.
After showing it to other artists in Pont-Aven, including Jacob Meyer de Haan (1852-95), Charles Laval (1862-94), Louis Anquetin (1861-1932), Paul Serusier (1864-1927), Emile Bernard (1868- 1941) and Armand S6guin (1869-1903), Gauguin became the leader of what would be known as the Pont-Aven School.