Often categorized as the father of the Realist movement, Gustave Courbet (1819—77) was committed to painting only what he could see. A committed Republican who saw his Realism as a means to champion the working classes, he became a tremendous influence on later art movements, especially Impressionism.
Courbet was bom at Ornans in eastern France. After persuasion by his father, he moved to Paris at the age of twenty and entered law school, but soon left in order to pursue a career in art.
Avoiding recognized academic studios, he studied with lesser-known artists and mostly taught himself by copying paintings by Caravaggio, Rubens and Velazquez, as well as painting directly from nature.
Although he renounced accepted academic treatments, he still submitted his work to the official annual Salons, yet only three of his twenty-five submissions were accepted. When visiting the Netherlands and Belgium he became inspired by Dutch art.
During the Paris Commune of 1871, he briefly abandoned painting for a role in the revolutionary government and was imprisoned for six months after it was crushed.
He painted The Artist's Studio for the 1855 Paris Exposition Universelle. It is an allegory of his life as a painter.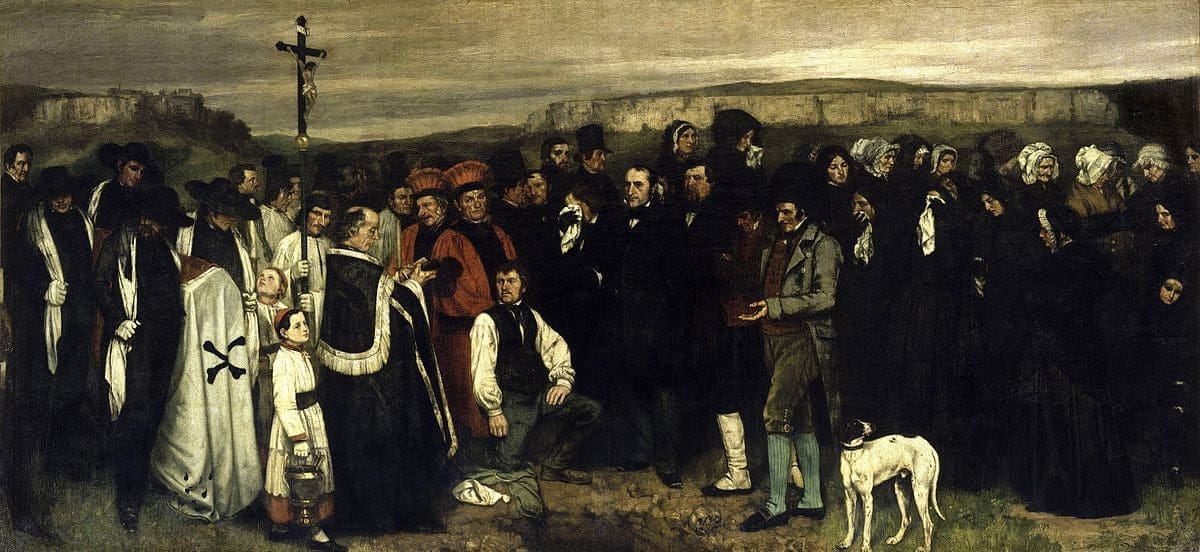 Taking his inspiration from group portraits of Dutch civic guards in the 17th century, Courbet shocked visitors at the Paris Salon of 1850 by using a huge canvas – usually reserved for history painting – for a mundane subject-the funeral of his great-uncle in Ornans.
The ordinariness of the scene was perceived as derogatory to the tradition of history painting.