A bathroom renovation is usually a big project and the costs can quickly add up. We've put together a list of 10 design mistakes to avoid when decorating to help ensure the job gets done right the first time!
Not factoring in lifestyle
First and foremost, the bathroom is a practical space and so its design should be fit for purpose. A key thing to bear in mind is your lifestyle. You need to consider who will be using the bathroom, what they use it for, and how long they spend in there. A bathroom designed for a family of 4, will be a hell of a lot different from a single person's. You should also look at the maintenance involved to keep your bathroom looking clean. Whilst white grout looks fresh at the time, how is it going to look after you wash your hair with that purple shampoo? You really need to think about how much time you have to spend on cleaning. Low-maintenance is usually a smarter choice for the bathroom – save those extravagant details for the bedroom or living area.
Not doing your research
Do you know what kind of water system you have? A common mistake is settling on plumbing fixtures that are not compatible with your system. You could end up spending a fortune on a high-tech shower that does not work efficiently with your boiler. Do your research before you make any investments.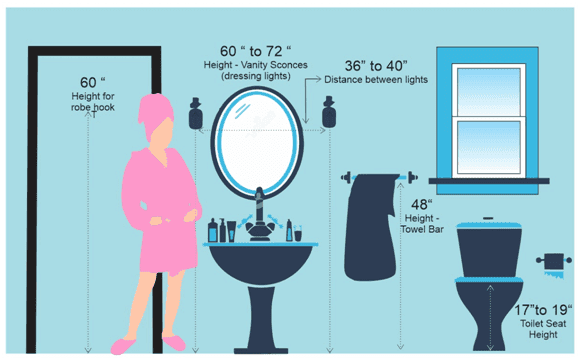 Inaccurate measurements
A rookie error in any bathroom design is not accurately measuring the space available. If your bathroom suite doesn't fit the surface area, you may be forced to return and repurchase it, which elongates the renovation project. To avoid this, be sure to measure the area carefully, seeking the help of an expert if needed. Try sketching out the room and noting the measurements on graph paper so you have a visual representation. It's also worth keeping the negative space in mind, e.g. can the shower door fully open? Is there enough space between the sink and loo? Etc.
Skimping on storage 
Nobody ever complains about having too much storage space – especially in the bathroom!
Storage cupboards should form part of your initial renovation plan, as leaving it to the last minute could damage the aesthetic of the room. When you're planning your bathroom revamp, it's important to think about where you're going to store your towels, loo roll and toiletries. Having all those bits and bobs displayed across the countertop will look cluttered, so be sure to have adequate shelving and cupboard space to store it all. Smart storage solutions are your new best friend – think slim-line, tall-boy units, under vanity cupboards, over sink mirror storage and discreetly placed hooks.   If you must have things on display, try organising them into pretty wicker effect baskets for a streamline finish to your new suite.
Jumping on the band waggon  
When renovating your old bathroom, it can be tempting to choose an ultra-modern design. Whilst it will look super-trendy initially, remember that interior design fads tend to date quickly. Bathroom suites can be super expensive, so assuming you don't want to replace it again in 2 years, you're probably best off choosing a classic suite and incorporating lower-valued accessories that can be easily swapped out as the fashion changes. 
Ignoring the finer details 
It's those little personal touches and accessories that really define the character of a room, and this rule applies to the bathroom, as much as it does to the living area. Often things like taps and toilet flushes are overlooked, and chrome is widely accepted, however if you really want to make a statement, choose a unique style, like copper or black, and tie this into the theme of the room. Transform bathroom essentials to be design features – Towels are a great way to add a splash of colour and you can get some super glam loo roll holders! Just be sure to coordinate your accessories to ensure the look is consistent.
Missing out the mirror  
A well-placed bathroom mirror has many benefits. Not only is it a practical fixture, it can double as storage space, as well as making the room appear larger, as it reflects light throughout the room. Just like any other accessory, it's important to choose a mirror style that matches the overall aesthetic. A large straight-edged mirror will make for a contemporary finish, whereas a more intricate frame can bring a whimsical characteristic to the space.
Turning to the dark side
Lighting is key to modernizing any room. If you don't have the luxury of natural light, be sure to install adequate lighting. Spotlights, fitted with a cool white bulb are great for brightening a dark room. If you are lucky enough to have an outward facing window, shun heavy curtains in favour of slatted blinds. Choose a natural wood, to add a minimalistic Scandi vibe, that is light and airy.
Taking design to the extreme 
It's easy for people to get carried away with colour, especially in a low-key domain, like the bathroom. Colour clashes can make even the tidiest of rooms look cluttered, so if you're a colour lover, balance a bold wall shade with consistent accessories, or vice versa. On the other end of the spectrum, a crisp white room can look clinical. If you prefer a minimal look, try counteracting the white with natural wood accessories, or a pale grey, for an uber-chic and dynamic finish.
Poor ventilation  
Unfortunately, where there's water there will often be damp and mould, which can cause unpleasant odours. Having good airflow is essential to prevent this. Simply opening the window is an easy way to keep air circulating. If you do not have outward facing windows in your bathroom, then you should be sure to install a ceiling fan or extraction unit to prevent any build-up of mould/ mildew and keep your bathroom feeling airy and fresh.
It is recommended to source bathroom design experts such as Waterloo who will help you to avoid making these mistakes.