No place in the United States, arguably in the world, is known more for their combinations of great food, drink, and celebrations than The Big Easy. In New Orleans even the funerals are huge, unique celebrations of life. From Mardi Gras to Bourbon Street, New Orleans is renowned for its fabulous Cajun cuisine, its seafood, and its endless nightlife.
But to truly appreciate New Orleans, to eat the very best food and enjoy the hottest festivities, you have to know where to look to find the premier restaurants and bars, private events, and parties. Take a look at a few of the best of the best of the restaurants and bars, private events facilities, and party spots in and around the Big Easy!
Stop by Johnny's Po-Boy
You can't go to New Orleans and not eat a po-boy. The Big Easy and Cajun cuisine is famous for these great, flavorful, unique sandwiches. Why try any po-boy unless you are eating the best? Johnny's Po-Boys feature soft, freshly baked French bread and a variety of meat and seafood fillings with all the trimmings you desire.
SoBou for Lunch
Sit back and sip a cold cocktail or fine wine in the shade and watch the city of New Orleans stroll through the French Quarter. Sobou (South of Bourbon Street) is a relaxing lunch spot serving Louisiana street food-inspired small plates and a great way to kick off a long festive day. 25 cent martinis with your weekday lunch entree will get the party started!
No Trip to the Big Easy Is Complete Without Breakfast at Café Du Monde
Kick off your New Orleans day with famous fresh beignets from Café Du Monde, perhaps the most delightful powdered sugared breakfast confections to try! With beignets paired with a delicious cup of chicory coffee, you are ready to tackle New Orleans!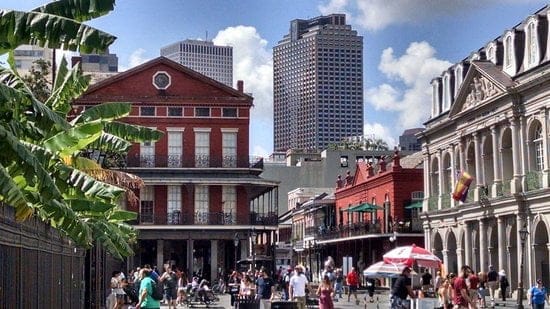 Brunch at Commander's Palace
With charming, tasteful décor, first class service, and fresh, innovative Creole gourmet meals, Commander's has it all. Pair a refreshing cocktail with brunch, lunch, or dinner and top off the experience with desserts such as crème brulee or bread pudding. Commander's Palace represents the Garden City District at its finest.
Looking for Fine Cuisine, Upperline Restaurant Is Upper Class
Upperline is famous for its cozy environment and innovative dishes, such as the duck gumbo or fried green tomatoes with shrimp remoulade. If you are indulging in only one fine dining experience while in New Orleans, this would definitely be the place to go!
Visit Pêche for a Diversion from Creole Cooking
After a week or two in New Orleans, it may be possible to have too much of a great thing, and a visitor might crave something outside of Cajun and Creole cooking. The award-winning restaurant, Pêche, offers a diverse menu inspired by South American, Spanish, and Gulf Coast cuisines served with fresh ingredients from the Gulf of Mexico.
You Can't Leave New Orleans Without Taking a Spin on the Carousel Bar
The Hotel Monteleone is nestled in the heart of the French Quarter and boasts not only over a hundred years of history but the famous Carousel Bar & Lounge as well. The Carousel Bar is a turning merry-go-round bar that was frequented by literary legends such as Ernest Hemingway and Tennessee Williams. Relax and have a world classdrink at the Carousel before your visit of New Orleans is finished, or it won't feel complete!