In 1922 US journalist Walter Lippmann first used the word "stereotype" in a metaphorical sense, defining it as 'the projection upon the world of our own sense of our own value, our own position and our own rights'.
Photographs are particularly prone to such judgements when they depict members from different social, ethnic or class groups. These images say more about the photographer's perspective or world view than they do about the person in front of the lens.
Although the work that Irving Penn (1917-2009) did for Vogue has come to define 20th-century US fashion and celebrity photography, at the start of his career Penn dreamt of embarking on a very different personal project, documenting the "remarkable strangers… the disappearing aborigines in remote parts of the earth".
That dream was realized in December 1948 when, after an assignment photographing dresses for Vogue in Lima, he travelled to Cuzco in Peru. Penn said of his arrival in Cuzco: 'The look of the inhabitants enchanted me—small, tight little %-scale people, wandering aimlessly and slowly in the streets of the town It Is difficult to imagine the present inhabitants as descendants of the brilliant engineers of the Inca cities'.
On arriving he rented a local portrait studio where he made a series of photographs that includes Cuzco Children (1948). The generic title offers no clues as to the two children's identity and individuality: Penn simply adds, "A brother and a sister, dressed for a visit to Cuzco".
He used his trademark tonal backdrop, claiming, "I found pictures trying to show people in their natural circumstances generally disappointing… I preferred the limited task of dealing only with the person himself, away from the accidents of his daily life, simply in his own clothes and adornments".
Indeed, other than the children's threadbare attire, the only other prop in the photograph is a piano stool, included as Penn desired to tell 'something of their tiny size'. The language barrier prevented him from talking to his subjects, so he posed them by hand.
His first editor at Vogue, Rosamond Bernier, felt he arranged their positions 'as impersonally as he has organized still lives adding that he 'observes them but does not want to know them'. Cuzco Children does not portray individuality so much as exoticism: it is more an ethnographic study than a portrait.
Documentary images that picture social, ethnic or dass groups seem the antithesis of artistic projects such as Penn's. They generally seek to offer an insight into the lives of those pictured, as with Lena on the Bally Box,
The Swiss-born photographer Robert Frank (b. 1924) worked in a similar vein to produce his images of a fifty-three-year-old miner from South Wales named Ben James. Frank and his family lived with Ben James during the assignment in 1953 and he uses the title of his photograph—Wales (Ben James, Coal Miner, Caerau)—to give information and place his subject within his environment.
British photographer Colin Jones (b.1936) also photographed working-class subjects. He became a professional photographer in 1962 but started his career as a dancer with the Royal Ballet. It was while on a tour with the dance company in Australia in 1958 that he bought his first camera and began to take photographs. He went on to take images of miners, shipbuilders, dockers and dancers in the north of England, which were used later for his photobook Grafters (2002).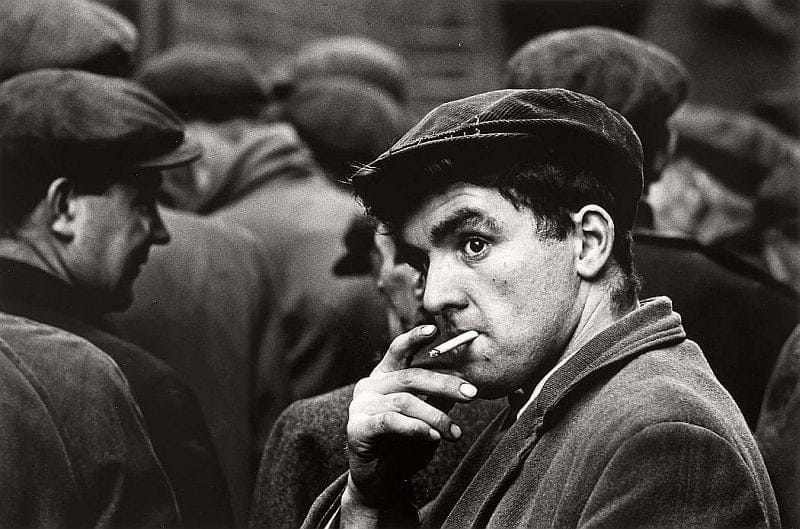 His photograph Liverpool Docks focuses on an unidentified man surrounded by other flat cap-wearing dockers. Jones photographed the men at a meeting held to protest against employers using only casual labour.
The rugged appearance and determined expression of the docker facing the camera lends dignity and humanity to the subject, a piece of visual rhetoric that confounds the popular view of strikers as an unthinking mob.
Despite the desire of photographers such as Frank and Jones to give access to the lives of those rarely encountered in middle-class life, such portraits almost inevitably stereotype their subjects. Jones's Liverpool Docks and Franks Wales (Ben James, Coal Miner, Caerau) are made to personify the impoverished miner and poor dock worker, for those wishing to 'know' about worlds other than, indeed alien to, their own.