Nicholas Nixon met Beverly 'Bebe' Brown in 1970 and they married the following year. Bebe is the eldest of four sisters, including Heather, Laurie and Mimi.
The girls' parents, Sally and Fred Brown, had taken an annual Christmas photograph of their children from the year of Bebe's arrival; these were on display in the family home. Being an only child with parents who were only children, Nixon was fascinated by Bebe's family and its rituals.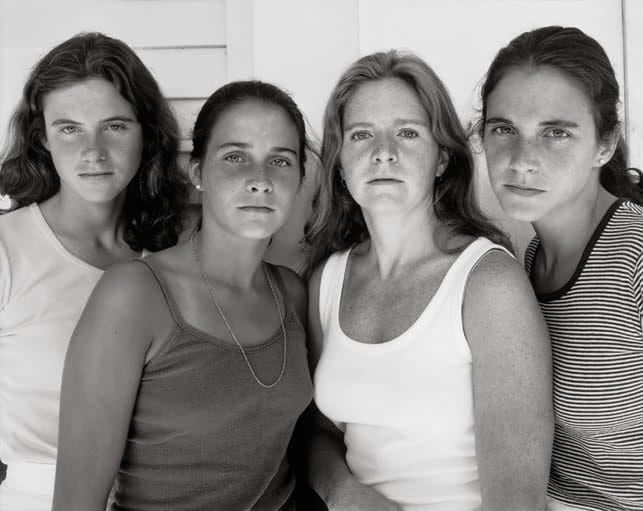 In July 1975 Nixon took a group portrait of the sisters at a family gathering. Happy with the results he agreed with the sisters to photograph them every year. This ongoing project, known as The Brown Sisters, has become the defining work of his career. Nixon set himself some formal guidelines in order to ensure a visual continuity across the series and he always positions his camera at eye level.
The sisters always appear left to right, Heather, Mimi, Bebe and Laurie.The setting is usually outdoors in natural light, on a lawn ora beach. Sometimes Nixon appears as a shadow cast across the group of women.
No matter how many exposures he takes in a sitting, Nixon selects only one to represent the women each year. When the photographs are seen together, the viewer is struck by the passage of time as it is evoked by the women's changing faces, bodies, hairstyles and clothes.
The different postures they adopt, and how they look at the camera, suggests the shifting ebb and flow of their relationship to each other—and to the photographer.