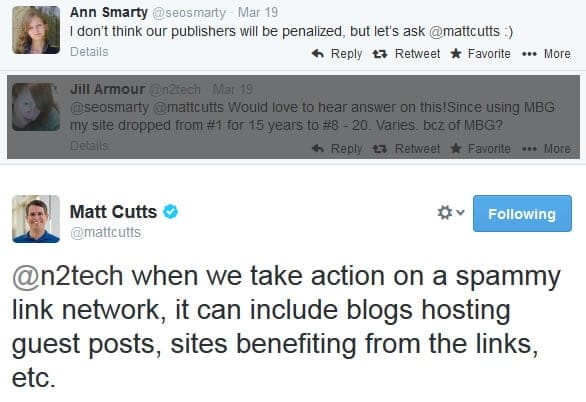 Some of you are aware that Google has penalized guest posting. Despite the fact that Matt Cutts clearly stated two or three times Google's opinion on guest posting, people continued to do it. MOZ specialists, on their forums, were vouching for this method of getting backlinks as being one of the best.
Yeah, it's true, guest posting was one of most-used link-building techniques over 2-3 years. Almost everyone who ever accepted a contributor on his blog must have gotten spammy e-mails from various "SEO-ers" (quotes used with purpose…), all of them containing the same spam: "I have an aaawesomeeee article which fit your niche, blah blah."Often, that awesome article contained a DO-follow link with no relevancy whatsoever to the article.
As an aside, I don't think there's such a thing as SEO. Things should flow naturally, exactly like in real life. But, as I opinionated in another post, the Internet is shaped to some extent by the greediness of people hoping to make money. Let's not be hypocrites; you'll rarely find good Samaritans on the Internet.
Respectable SEO-ers took guest posting to a "higher level" by creating guest post networks, like PostJoint, MyBlogGuest.com (led by the reputable ex-contributor to various highly appreciated SEO-oriented websites like SEJ, Ann Smarty) and even charging a monthly membership fee. It was profitable, I suppose. Getting $50 from 2,000 (I can't appreciate exact numbers, it's just a guess) people every month adds up to $100,000.
On January 24, Matt Cutts wrote one of those posts people will be talking about for 6 months at least: The decay and fall of guest blogging for SEO.
Basically, people have abused guest posting and Google considers it just another link manipulation technique. Here's an excerpt of Matt Cutts' writing:
Okay, I'm calling it: if you're using guest blogging as a way to gain links in 2014, you should probably stop. Why? Because over time it's become a more and more spammy practice, and if you're doing a lot of guest blogging then you're hanging out with really bad company. Back in the day, guest blogging used to be a respectable thing, much like getting a coveted, respected author to write the introduction of your book. It's not that way anymore.
History is repeating itself: Sponsored posts fell, SEO companies promising the Holy Grail by submitting your websites to thousands of spam web directories (once again, not each and every directory is spam; if humans are involved, to seek valuable resources through a web directory for specific websites is quite helpful), article directories and now guest blogging, etc.
Another aside: a friend of mine got banned from MyBlogGuest because he decided to post guest postings (some of them really informative) but he no-followed all external backlinks after being manually penalized by Google in January 2014. His PageRank dropped from 5 to 3, he filed a reconsideration request, and in two weeks he got back his PageRank and the good rankings.
It's sad people don't learn from their mistakes. How can you ban someone from your network when you know he's doing the things right and you're wrong? I mean… really now?
Webmasters should understand by now that there is no such thing as tricking Google. I'll give you an example: Back in 2007 I started a personal blog on which I was opining about various life issues. I never really cared about search engines, PageRank, rankings, backlinks – because it was a hobby, I never invested a dime for it. Anyway, slowly, people gathered around me and they wanted to share their own stories. I allowed them to create contributor accounts but, yeah, I heavily moderated every post. There wasn't any spam, anyway. And guess what, that blog ranks #1 on all search engines for several keywords. Explain that.
So this is what we're talking about. It's just funny. :)
On the Internet, if you let yourself be absorbed by the potential a certain online business can reach, you'll fail sooner or later. It's so logical. And simple. As you might figured it out, yeah, I really hate the concept of search engine optimization. And you know why? Because I am aware that each and every attempt to force something to rank higher that it would naturally is just unethical.
I don't wanna go into philosophy, but you really need a certain way of seeing things to achieve some quality results, no matter if we're speaking about real life or the Internet. You need to able to see the whole picture and do things wisely.
Anyway, the conclusion is this:
You can still do guest posting, pay for reviews etc. but ASK for no-follow links. You need to care much more about visitor acquisition rather than SERP. And trust me, even if we're tempted to believe Google is the king on this huge chess table, it isn't true. Humans tend to love originality; they click on a hyperlink if they're interested somehow by what that link is pointing to.
Don't expect SEO companies, no matter how reputable they are, to do miracles for you. They're just a business like any other. They can't do anything more than you could do as a webmaster. And everything they do above that, it's called search engine manipulation. You have all the power to do things right by providing quality. From that point, things are out of your control anyway. You can't "force" something to become what isn't in fact. It's like having a cow and pretending you have a horse. You just can't. Get a horse and you'll have a horse. Got it?
Don't listen to so-called "experts". A real expert will not charge you to mention your business somewhere he has access to. He'll do it because your source deserves to be cited.
Stop spamming. You'll gain nothing but a bad image. Have some balls and be proud. You, your happiness, your life, things you love to do – these are more important than anything else in this world.