A 24 Hour Locksmith Sacramento provides a full spectrum of locksmith services in Sacramento, CA, and its surrounding areas. They offer solutions for a variety of lock and key issues, catering to both emergency and routine needs. Their services encompass not only traditional locksmith tasks such as lock picking and key replacement but also extend to more advanced solutions like transponder key making, chip key, and VAT key services. The company prides itself on being fully insured, licensed, and bonded, ensuring a professional and secure service.
The team at A 24 Hour Locksmith Sacramento is trained in the latest lock and key technology, allowing them to handle a wide range of requests efficiently. Their commitment to staying updated in their field sets them apart from competitors and assures customers of receiving contemporary solutions to their lock and key problems.
Serving cities including Sacramento, Elk Grove, Citrus Heights, Roseville, Arden-Arcade, and Davis, they cover a broad geographic area, making them a versatile choice for residents in these regions. The company emphasizes round-the-clock availability, ensuring that they are accessible for emergencies at any time.
They stand out for their quick response time, professional service, and competitive pricing. These attributes, combined with their comprehensive service range and experienced technicians, position A 24 Hour Locksmith Sacramento as a reliable choice for anyone needing locksmith services in the Sacramento area.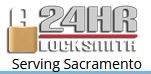 ---
Business address
A 24hr Locksmith
United States
---
Contact details
Phone:
(916) 244-3934
---