Grow Training is a UK-based institute that provides both on-site and online training courses. The business aims to help individuals and companies develop skills and ensure safety compliance in the workplace. With a multitude of courses on offer, Grow Training is noted for its extensive range of NEBOSH (The National Examination Board in Occupational Safety and Health) and IOSH (Institution of Occupational Safety and Health) courses.
Among the NEBOSH courses offered, there are certain ones that are worth mentioning. The NEBOSH General Certificate is one of them; it provides an excellent foundation in health and safety principles. Specific to the construction industry, the NEBOSH Health and Safety Management for Construction (UK) course is also offered. These profession-oriented courses ensure that participants are well-versed with the safety measures they need to implement in their respective working environments to minimize hazards.
Moreover, Grow Training also provides IOSH courses. These courses vary from leading safely, managing safely, to working safely. Each IOSH course is designed with a specific professional level in mind, thus providing a tailored learning experience. The training center also offers the IOSH Managing Safely Refresher, an online course that keeps professionals updated with the latest in safety management.
Beyond NEBOSH and IOSH courses, there are several other training courses that the institute offers. A few examples are REHIS (The Royal Environmental Health Institute of Scotland) courses, First Aid courses, and even Mental Health First Aid Training Courses. These courses add to the comprehensive learning experience that Grow Training provides.
Key REHIS courses include Elementary Food Hygiene, Intermediate Food Hygiene, Elementary Health and Safety, and Risk Assessment Course. These courses are essential for professionals working in the food and catering industry. Additionally, their mental health first aid training course aims to equip trainees with the ability to assist someone who is dealing with mental health issues.
Verdict: Grow Training is a comprehensive training provider that offers a variety of courses including NEBOSH, IOSH, REHIS, First Aid, and Mental Health Aid. It accommodates both individual learners and corporations, with the option for online learning to cater to different learning preferences and schedules. Whether a business needs professional development for its employees, or an individual seeks to gain knowledge and skills in occupational safety and health, Grow Training provides a range of learning opportunities to suit different needs.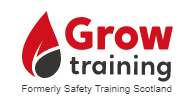 ---
Business address
Grow Training
Red Tree Business Suites, 33 Dalmarnock Road, Glasgow

,


Glasgow

,


G40 4LA




United Kingdom
---
Contact details
Phone:
0141 375 0475
---