Do you feel strongly about something? Do you keep up with current events and politics? Do you have questions about something you know nothing about? The issues affecting society today are addressed in the society directory. Society is the world we live in and the way we relate to one another through the issues we deal with every day. From government and crime to genealogy and holidays, people can relate over many different subjects.
There are a wide variety of subjects in this directory. Issues and subjects from sexuality and activism to religion and support group are included in the society directory. If you want advice you could view the advice portion of the directory, the relationship section, men and women, or the death section of the directory. If you want information you could visit the language and linguistics or the philosophy or subcultures sections. The society directory deals with things that have to do with people.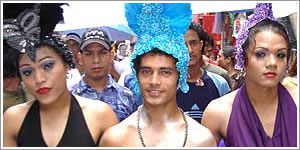 If you believe in things you can't always see, you can look into the folklore, urban legends, or paranormal sections of the society directory. Some things are new to people, and people don't always know everything about the things they will be dealing with in life. These are the kinds of things you can learn about in the society directory. Lifestyle choices and the military are two other categories found in the society directory where people can learn about joining a branch of the military, or changing their life in a major way. There are a lot of categories to browse in the society directory and a lot of different ways to research and learn the things you care about.
In a world as diverse as ours, the society directory expands your community into a web community. You can connect with people from all over the world, not just your own neighborhood. You can relate to your fellow human beings through culture and common beliefs and interests. If you're looking to research something new, find someone to connect with, or sound off about something you feel strongly about, you'll find a place in the society directory.
The term "Society" has many meanings, and in general is defined as the beliefs, actions, lifestyle choices, and other factors which make up a human community's cultural identity. In Jasminedirectory's Society pages, there are a plethora of aspects of society which can be investigated depending on the area of research and interest on the part of our users.
Past society can be investigated in this directory through looking at items like folklore, history, genealogy, philosophy, religion, and more. There is a great deal of room here for articles on any number of subjects encompassing every aspect of what makes up, has made up, and might make up in the future what we know as human society.
The categories are widely cast and investigate most of the social sciences, from concrete realities like organizations, activism, military, politics, and support groups, to more esoteric subjects including the paranrmal, urban legends, subcultures, death, lifestyle choices, and more.
By investigating our Society directory, users will be able to access knowledge on all these topics and draw relationships between them. Religion and Spirituality share connections with holidays, the paranormal, death, folklore, and subcultures, and sociology can be further investigated through topics like men, women, and sexuality.
The ties between every aspect of human society cannot be ignored, and by assembling a number of articles on these topics, Jasminedirectory.com allows you to research and learn about your interests in human society without leaving one site, granting you an all-access pass to each of these parts of society and how they interlink. It is the ultimate opportunity to synthesize and cross-pollinate knowledge through an entire sector of humanistic knowledge.
As we learn from the past, so can we theorize about the future. Topics like education and activisim encourage our users to question the world they live in, while philanthropy can explain their options for making the world a better place and countering the forces they see as destructive in today's world.
Jasminedirectory.com's society directory is a starting point from which users are able to learn about all aspects of human society - that fragile construction which makes our culture and countries so different, yet so the same.
---
Articles related to People & Society:
---
---
There are 21 People & Society web directory related resources in this category!
---
End Child Poverty: World Vision UK

Sponsor a child with World Vision UK, you can help change a child's life and put an end to poverty from 75p a day, visit now for more information.

http://www.worldvision.org.uk

---

InfoPlease

Biography resource, containing more than 30,000 entries. Search by name, categories and alphabetically selected galleries. Feature biographies can also be found, along with famous quotes.

http://www.infoplease.com/people.html

---

Marriage Counseling Los Angeles

A network of marriage and individual therapists working with individuals, couples, families, adults, teens, and children.

https://www.marriagecounselingtherapynetwork.com/

---

Oxford Dictionary of National Biography

Oxford sustained resource of biographies of people who have influenced and shaped the history of the British Isles. Users can subscribe, or just browse the bios. These include pictures, text, references and a wealth at death section.

http://www.oxforddnb.com

---

Stories From A Cottage

The idea behind this website comes from the associations people make with cottages. Many people connect a cottage with home, family and the lives they build with the people they love. Out of those lives come stories that bind them together and create lasting memories. Users can submit and read stories.

http://www.storiesfromacottage.com/

---

The Exploratorium

EP

A practical gallery of science, art, and human insight in San Francisco. Site delivers interactive working exhibits and exhibitions, actions, science news, and journals, general data about the museum.

http://www.exploratorium.edu/

---

The Human Marvels

Informational website that features stories about people in the past and present that have special abilities or unconventional appearances. As the website states, it's a place where these people are not presented as odd, monstrous or freaks – but as incredible human beings with a story to tell

http://thehumanmarvels.com/

---

Time 100

Time's list of the 100 most influential people in the world. Users can access a short bio of each nominee and cast their votes. A map that shows how each personality fared this year, based on votes is also available.

http://time100.time.com

---

Time and Date

EP

Loads of time and date connected data, such as annual and once-a-month calendars, counters, countdown, and the world clock which displays the present time in towns all over the globe.

http://www.timeanddate.com/

---

Unicef UK: Gifts in Wills

Leaving a legacy to Unicef is a wonderful way to make your support for Unicef live on. They believe that every child has a right to survive, grow, participate and fulfil their potential and your legacy will support our ongoing work to achieve this.

http://www.unicef.org.uk/Donate/Leave-a-legacy/

---

Who2

Biography resource, containing categories like US Presidents, movies, musicians, brainiacs, activists, artists, writers and outliers. Bios include interesting information, pictures, quotations and relevant works.

http://www.who2.com/

---

About Famous People

Articles and bios of various famous people. Categories include: Famous and Fascinating Women in History, The World's Greatest Composers, Famous Figures in Black History, etc. There's also a section for homes and residences of famous people.

http://www.aboutfamouspeople.com/

---

About.com

Expert guidance from real people searching the Internet for the information, goods, and services that you need to know related to your passion.

http://www.about.com

---

Bio.

Website provides biographies of public figures and celebrities. Most bios have a video attached to them, created by Bio. Aside from that, their most notable works, appearances and other interesting things about their lives can be found.

http://www.biography.com/

---

Charity Navigator

Website dedicated to all sorts of charities, from animals, environment, health, international, public benefit, religion and education. Users can search based on a category or through the A-Z Directory of charities available and make an informed decision on who to support.

http://www.charitynavigator.org/

---

Matchfinder

Matchfinder is a matrimonial site providing matchmaking services to eligible Indian brides and grooms. Match finder has a collection of bride and groom photos, education and job details, partner preferences and hobbies of registered profiles.

http://www.matchfinder.in

---

Miniature Earth

Statistical website that analyzes a hypothetical situation where the world would be reduced to a total population of 100. Given this situation, it presents how many people would adhere to what religious belief, how many would lack food, water and how many would live under the poverty limit.

http://www.miniature-earth.com/

---

NNDB

Resource of bibliographies, biographies and info on noteworthy people from around the world. Features information on actors, writers, journalists, musicians and public figures. A Mapper is accessible, linking together these people through their careers, family relations and political alliances.

http://www.nndb.com/

---

Personality Perfect

EP

Free personality test. Aiming to help people improve their lives based on their personalities. When a person learns about his or her individual personality type, they can gain a real understanding into how they naturally relate to the world and how others relate to them.

http://www.personalityperfect.com/

---

TED Ed

Part of the TED website, this section offers informational articles and primarily videos on all sorts of interesting facts about humans, nature and the universe itself.

http://ed.ted.com/

---

Today's Assisted Living

Elderly people who prefer assisted living can enter the website and enjoy the safety, independence and privacy of an assisted living lifestyle.

http://www.todaysassistedliving.com

---