With all the information available on the Internet today, it's easy to get lost in a sea of information. The News section allows you to customize your own directory and separate news sources into various categories. That means no more scrolling through news sources you don't need or want. It's faster than a search engine and eliminates the need to find the "right" key word or key word combination. It's a one-stop, one-click trip to all the information you need throughout the day.
Whether you want to settle in with a morning cup of coffee and leisurely read a publication's feature articles, or want to watch a quick news broadcast during your lunch break, the News directory makes is simple to only find options for that specific need. That's because our directory allows you to sort various News Web sites by source and includes categories such as Internet broadcasts, television and even Web blogs.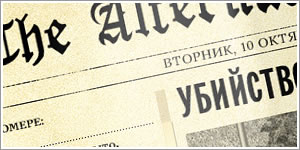 Alternately, you can organize your News sites by the kind of information you want, ranging from breaking news to current events to opinion and analysis.
The News directory can also be used as a valuable research tool for students and professionals. The Archives category allows you to store older articles on relevant topics while the University and College, Museum and Archives and Journals section will let you access information sites without having to sort through articles that are not peer reviewed or don't meet your requirements.
For many people, the news they can use the most is local. Our Personalized News section allows you to store your local newspaper's electronic edition and the Weather section will ensure that you always have your umbrella when you need it.
Finally, if you need a quick break from a hectic day or are just in the mood for a good laugh, you can even store satirical and humorous news Web sites under their own category as well.
So say goodbye to tedious search engine and key word guesswork. The time you invest in building your own, personalized News directory will save you hours of self-filtering in the future. And you can add or remove as many Web sites as you would like, so you get as much information as you need, but not more.
The rate at which the world moves today is unlike that of any other time period in history. With the advent of instant gratification technologies such as Twitter, Google, and Yahoo we have come accustomed to getting out information as fast as possible. The world of news is no different. Every day thousands of events take place in counties, cities, and states all across the country and world. Unfortunately however this information is not always easy to find, regardless of how fast we might be able to get it. What does that mean? Well in reality it is true that we are able to gather information faster than ever before, as it is created faster than ever before. However the validity of that information is not always guaranteed and therefore it is up to us to seek out, and play around with the information that is actually valid, that will actually help us to achieve something. That is where All in One Dir.com comes into play.
You see websites such as Google and Yahoo give predetermined precedence to websites which rank highest in their search engines. While this is a valid practice it does not guarantee that the information that we receive from those websites will be of the highest quality for a particular topic. In fact the best information may not be ranked at all in Google or Yahoo, instead it is in a directory such as All in One Dir.
The news directory at All in One Dir, encompasses a wide variety of websites which deliver news to its user about what is happening in the world. These websites are not your everyday Cnn or New York Times, rather these are websites written by the people for the people. If you search within the news directory you will find a multitude of listings surrounding various topics ranging from county government in New York news, all the way up to things such as World Politic news.
Whatever it is that you may be searching for, the news directory at All in One Dir is guaranteed relevant to the niche, and up to date.
---
There are 15 News & Politics web directory related resources in this category!
---
BBC

Breaking news, sport, TV, radio and a whole lot more. Available in various languages.

http://www.bbc.com/

---

Reuters

Founded in 1851 and it has been part of the Reuters Group plc. until 2008 when it was acquisitioned by The Thomson Corporation. Features articles, videos, and worldwide news coverage.Based in London, UK.

http://www.reuters.com/

---

Simpolfy: Bringing Politics into the 21st century

An article about Simpolfy, which uses questions to understand your political profile and help you easily decide whether you are for or against a bill. They then compare your positions to the voting records of your representatives, and show you how you actually align. We are a politically impartial, data-driven organization with the mission to improve democracy.

https://www.indiegogo.com/projects/simpolfy-bringing-politics-into-the-21st-century

---

The New York Times

Official website of the popular newspaper. With more than 30 million unique visitors each month, it's the US most popular newspaper site. Features the printed articles along with online-specific content like videos, interviews and pictures.

http://www.nytimes.com/

---

U.S. House of Representatives

Official website of the US House of Representatives. Allows users to find their reps from their respective locations, get the latest news and activities in which the House is involved, watch a live stream from the House and get constant updates on the hearings.

http://www.house.gov/

---

United States Courts

Information about all the courts across the US. Users can perform a search based on City, State and Zip code. Rules and policies are also explained, along with information about the current acting judges across the country.

http://www.uscourts.gov

---

US Consumer Product Safety Commission

Official website of CPSC. Allows users to report unsafe products, get information about what makes a product unsafe, the regulations needed to put something up for sale. Resources for consumers and businesses alike.

http://www.cpsc.gov/

---

Yahoo! News

Internet-based news aggregator powered by Yahoo! Inc. Features several categories like Top Stories, World, US National, Health, Weather, Most Popular and Local News. Among the news services they use to take their headlines from, there are the Associated Press, Reuters, ABC News, CNN and BBC.

http://news.yahoo.com/

---

BBC News

Integrated part of the BBC Online website, the BBC News features regional news (US & Canada, Mid-East, UK, Europe, Asia, Africa, Latin America), Business, Health, Sci/Environment, Tech and Entertainment. Online TV and radio also available.

http://www.bbc.co.uk/news/

---

Big News Network

News headline directory with sections like business, world, markets, religion, technology and entertainment. The website displays a selection of breaking news which is updated frequently.

http://www.bignewsnetwork.com/

---

BuzzFeed

Entertainment news, worldwide news items and life-related articles presented mostly in a fun manner.

http://www.buzzfeed.com/

---

CNN

Online news source belonging to the Cable News Network. Offers constant news updates in regional categories, business, world sport, entertainment, tech, travel and iReport. Articles, videos and audio files can be accessed on the website.

http://edition.cnn.com/

---

Google News

Online news aggregation service powered by Google. It collects the top headlines from thousands of publications and displays them to users, with links towards its primary sources. Offers snippets of the articles, along with the headlines.

http://news.google.com/

---

The Library of Congress: Thomas Jefferson

Resource dedicated to Thomas Jefferson. Provides legal and legislative information included in the Library of Congress. Users can perform keyword searches for bills and statuses and get information on treaties, committee reports and the congressional record.

http://thomas.loc.gov

---

United States Senate

The official website of the US Senate. Visitors can read important updates, featured news and get information about the activities the Senate is taking part of. A Floor schedule can also be accessed and you can do a senator search to get a full bio.

http://www.senate.gov/

---