A company is only as strong as the people that they employ, and it can be extremely difficult to gauge a person's character from a resume on a website. At the same time, a web directory of resumes is a good place to start the process of finding the right employee to fill available positions. An effective employment process involves an active internet search, a thorough interview process, and an ongoing face-to-face networking campaign that involves constantly talking to qualified people.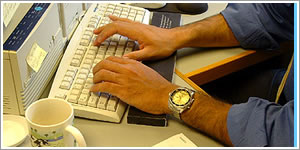 A company never knows when they will have to hire someone to fill a new need, or when they will have to hire someone to replace a departing employee. Every day companies get dozens of resumes in the mail and even more on the Internet, and the proactive company is interviewing qualified candidates whether there is a job opening or not.
A good manager interviews people that are interested in working for the company to see what the person is like, and to see how their personality will fit the company and their department. The proactive human resources manager is always letting all department heads know about the resumes of qualified candidates, and that human resources manager is offering to set up interviews with qualified candidates whether a position is open or not.
Applying your CV for employment directly via mail to the company you would like to work for could be an option, but you could as well boost your chances of getting a job by submitting to this web directory. When listing all the potential candidates it would be easier for the agent responsible with the employment to find the most suitable candidate.
Moreover, if the CV meets the needs of "the perfect employee", you could arrange a meeting with the director of that company for further analysis of your abilities and potential employment. As well, this web directory provides candidates for employment and so it can turn out to be useful for both the employer and the employee. If you are an employer that is looking for somebody to replace an employee or hire more people, this is the right place to do it. Due to the fact that we are in the middle of a financial crisis, more and more people who lost their jobs are trying to find another one and this web directory can help when we talk about employment.
Never say never, it applies for both the employer and the candidate. Signing a contract of employment is not easy and this is why you should consider all your options available, especially this web directory that can help you with the employment. Remember that a good employee knows how to use all the means offered in order to get a job!
A web directory that lists potential candidates is no match for a business to business networking function where professionals can mingle and swap information about their credentials and plans for the future. You never know who is looking for a change in their career, and many professionals looking to make that change are not going to advertise it on a web directory for fear of losing their current position. Always keep your mind open to new candidates because you may find your next superstar when you weren't even looking.
---
Articles related to Employment:
---
There are 62 Employment web directory related resources in this category!
---
About.com: Jobs and Careers

Resource for job seekers. Lots of information about where to look for a job, how to present yourself for the interviews, what are the questions often asked at interviews and how to start careers in fields like business, finance, art and media.

http://www.about.com/careers/

---

Aspen Dental Jobs

Openings for jobs in dentistry all over the country of U.S. Visitors can apply online for a job as a dentist or for a dental office job opportunity.

http://www.aspendentaljobs.com

---

Basic Salary Calculator

Calculates the income tax you owe on your gross wage. Calculate your take home pay & net wage.

https://www.incometaxcalculator.org.uk

---

Career Builder

Job search, resume posting, job recommendations and resources aimed at those who seek a job. A recently posted job list can be found on the main page. For registered users, a tool to save up jobs you applied to is also available.

http://www.careerbuilder.com/

---

Declare Your Major

Informational website helping students decide on what college major to pursue. There's also a career and personality test that students can take. Resources for those seeking to determine their career paths are also available.

http://www.declareyourmajor.com/

---

Etz Timesheet Solutions

Offers recruitment firms a suite of SaaS-based automated timesheet and back office software, designed to "save time and money".

http://www.etzbackoffice.com/

---

Hiring Trucking Companies

A database of trucking companies consisting of over 70,000 trucking companies.

http://www.hiringtruckingcompanies.com

---

Houston Methodist

Offers a gateway towards the jobs available at the Huston Methodist. Aside from presenting the benefits of working here, the website also acts as an online job finder for people interested in applying for a position at this particular hospital.

http://www.houstonmethodistcareers.org

---

IAB Bookkeeping Courses

Homepage of the International Association of Book-keepers (IAB); dedicated exclusively to the needs of bookkeepers and other accounting professionals.

http://www.iab.org.uk/

---

Joblife

Helps it's users to find jobs, prepare for interviews, upload your CV and let employers find you.

http://www.joblife.co.za

---

Jos. A. Bank: Retail Jobs

Sn index of corporate and retail store jobs. It's listings are only for US jobs and you can base your initial search on location by choosing the state of your choice.

http://jobs.josbank.com

---

Lee Memorial Nursing Jobs

This website aims at attracting career talent in the medical industry. Users can apply for nursing and general hospital jobs through the Lee Memorial Health System represented by this website. The location for the job is in Southwest Florida.

http://jobs.leememorial.org

---

---

Millennium Pharmaceuticals, Inc.

Resource for biotech and pharmacy job openings at Millennium Pharmaceuticals within Takeda Pharmaceutical Company Limited. They are searching for oncologists primarily with the sole purpose of defeating cancer.

http://www.jointakeda.com

---

National Owner Operator Jobs

Helps independent contractors find truck driving jobs across the United States.

http://www.nationalowneroperatorjobs.com

---

Part Time Jobs

Openings for part-time jobs. Job search, resume posting, Free register and post jobs and resumes.

http://parttimejobs.org/

---

Smart Recruiters

Empowers a new way of hiring with a one-stop shop cloud recruiting platform that makes it possible for smart businesses to find and hire great people. The centralized workspace spans the entire recruiting process, including deep integration of a marketplace where a company's best recruitment partners are never more than a few clicks away.

http://www.smartrecruiters.com

---

Start Here. Go Places

Free resource for students and graduates alike who wish to find a suitable college, major or career. There's also a scholarship search which students can use to find out if they can get one and what requirements it has.

http://www.startheregoplaces.com/

---

The Self Employed

A web portal for anything that is self-employed. The site aims to be a repository of everything one needs to know to have an interesting and successful entrepreneurial journey.

http://www.theselfemployed.com/

---

TPI Personnel Inc.

Provides temporary, permanent and contract staff to the Canadian (Ontario) local businesses. They also provide employment services to quality candidates and truck driving jobs.

http://www.tpipersonnel.com

---

TransPac Aviation Academy: Pilot training

The TransPac Aviation Academy is a full-time path to your pilot career with a staff committed to your entire pilot school experience.

https://transpacacademy.com/programs/programs_career.php

---

Trucking Unlimited

Offers job listings in the truck driving industry, as well as a list of hiring trucking companies.

http://www.truckingunlimited.com

---

About Careers

EP

Features numerous articles, tips and insights on planning for a career and job hunting.

http://www.about.com/careers/

---

Altice Cable Operations Jobs

Delivers residential and business services to more than 4.6 million customers.

http://www.alticeusacareers.com/

---

ARUP

New jobs openings at Arup. They have a diverse range of opportunities for the curious-minded to explore, in engineering and in other fields.

http://www.joinarup.com

---

Background Checks

Worldwide leaders in employee background checks, employment background screening services, criminal background checks and to help you hire the employees.

http://www.sterlinginfosystems.com

---

BJ's Wholesale Club

Users can find rewarding career opportunities in their Clubs, Distribution Centers and their Home Office in Westborough, MA.

http://www.careersatbjs.com

---

Brazen Careerist

Free tips and advice for those seeking a job. Job opportunities, courses and training can also be accessed from the website. There are links to Virtual Career Fairs and it features the latest news in the career niche.

http://www.brazencareerist.com/

---

Brazen Careerist

EP

An online network for young professionals that contains community and social networking features.

http://www.brazencareerist.com/

---

Build an Interview

Allows recruiters, HR professionals and managers to choose the right job-related interview questions, create interview guides and use the right behavioral interview methods.

http://www.BuildAnInterview.com

---