The visual arts have been the basis for the fields of the Arts and Humanities throughout time. Painting, drawing and sculpture are the most agreed upon subjects, while modern technology has expanded this description to include printing, writing, graphic design and motion pictures among others. Modern art has broadened our definition of art, so that even graffiti can be consider among the visual arts.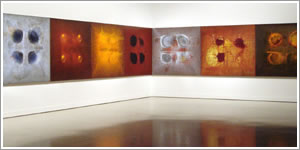 Visual arts have changed forms greatly in the last two thousand years. Public opinion has influence the visual arts perhaps more than any other art form. Visual art is in your face, you see it and talk about it and share it. Visual art is perhaps one of the most important art forms because it communicates so well. Visual art has always been one of the most lasting forms of expression throughout time. Shape, form, color and texture help to define our world, and as visual being we understand our world by what we see more than any other means. Visual art takes advantage of this, using our understanding of the world to speak to us.
Artists have used the visual arts for centuries to communicate ideas and thoughts. Some have been obvious, some have been discreet. No matter how an artist, or what an artist chooses to say through visual art, the message is the same. Visual art speaks to us, it says things people dare not say and shows us thing we would never think.
It is said that a picture or a painting is worth more than a thousand words. It is true, because sometimes you can tell an entire story through visual arts, especially when it comes to photography. You just immortalize a moment and allow the visitor to create his own version of the story based on that photograph. This is why artists are so attracted to visual arts, they can express their thoughts and feelings just the way they want to, without any restraints.
Nowadays, in the branch of visual arts that consists in paintings, painters use a special technique that creates the impression that you are being followed by the person portrayed in the painting. This is only one of the many proves that visual arts have become very complex and have evolved a lot since the cave paintings, said to be the first form of visual art. This web directory is meant to help artists from the field of visual art, providing them all the information they need. If you are looking for a place where you would like to hold an exhibition related to visual arts such as photography, this is the right place to do it.
We offer you high quality information regarding locations, as well as other services related to advertising in order to attract more people that are interested in visual arts and make them take part at your gallery.
Visual art explores our boundaries and defines our world. Classical art (fine art) has always been defined by the three major visual arts since ancient Greece. The visual arts have continued to inspired, to enrich and to expand our modern world. From the earliest history of visual arts such as the cave painting in Lascaux France, to everyday commercials on TV, you can find detailed information and links regarding the visual arts within this directory.
History, research and news are just the tip of the iceberg in regards to the visual arts. If you're a visual artist, you can find the resource you need to develop your work here. From galleries to paint suppliers to community message boards this web directory is your tool to connect to the art world.
The Visual arts are a means of communication, from photographs to paintings; artists from around the world express their ideas and opinions through the visual arts, and enrich the world around us. As an artist, or art lover this web directory can serve all your needs.
There are 56 Visual Arts web directory related resources in this category!
---
Kenalsworld.com: Art Kickstarter Campaign

EP

Kenal Louis is a Haitian creative artist based in Council Bluffs, Iowa. Louis recently launched "From Visual Arts To Music", an art Kickstarter campaign to support his transition from being a visual artist to focus on music.

http://www.kenalsworld.com/2014/08/05/kickstarter-art-campaign/

---

Painting Art Sales

Selling 100% Handmade oil paintings reproductions; free shipping all over the world.

http://www.paintingartsales.com/

---

---

Watch Movie Stream

Online movie database offering streaming of public domain film, movie trailers, independent movies, student film and international titles.

http://www.watchmoviestream.com

---

Aboslutearts.com

Provides tools for artists, buyers, and collectors in the art community.

http://www.absolutearts.com/

---

American Academy of Equine Art

EP

Aims to broaden public recognition of American equine painting and sculpture through education, demonstrations, exhibitions, and critiques.

http://www.aaea.net/

---

Animated News

EP

Provides a sheet of daily news and updates on the world of animated entertainment. Useful resource for cartoonists.

http://animatedviews.com/

---

Animation Blast

EP

Online magazine that takes both an appreciative and a critical look at the world of animation; featuring news, reviews, links, and more.

http://www.animationblast.com/

---

Animation World Network

A comprehensive network of visual artists driven towards animation. Guides, magazines and animation resources are provided, along with featured artists and projects.

http://www.awn.com/

---

Art Renewal Center

19th century paintings displayed, along with full biographies of their artists. Extensive gallery and educational programs.

http://www.artrenewal.org/

---

Artfully Redone

A collection of over one hundred thousand fine art images available for reproduction on paper, canvas and stretched canvas.

http://www.artfullyredone.com

---

Artquizz

Bilingual (English and French) quiz website with a focus on art and painters. Includes most great artists and their works and users can play all sorts of quiz-based games and puzzles.

http://quizzart.free.fr/

---

AskART

With over 200,000 artists, AskART is an online art database. Its focus is on American artists, but some international ones are also added and featured frequently. Over 6000 museums are also referenced.

http://www.askart.com

---

---

Avataq Cultural Institute

EP

Highlights the various activities of the Institute in Nunavik, includes a sample of the Inuit art collection, and provides the history and toponymy of Nunavik.

http://www.avataq.qc.ca/

---

---

Cape Cod Art Association

EP

The website offers a variety of visual art classes, workshops, and gallery exhibits; addressing both established and enthusiast artists who are looking for guidance.

http://capecodartassoc.org/

---

Cartoon Brew

EP

Offers news and commentary on the animation industry from CartoonResearch.com's Jerry Beck and AnimationBlast.com's Amid Amidi.

http://www.cartoonbrew.com/

---

Cartoon Research

EP

Comprehensive website that is entirely dedicated to animated shorts and features of the past, present, and future.

http://cartoonresearch.com/

---

---

CoSo Copley Society of Art

EP

Organization that is entirely committed to the public support and advancement of the visual arts in New England and beyond.

http://www.copleysociety.org/

---

Crankbunny

EP

The website is an interactive animation gallery with clickable and movable objects and montages. Addresses the entire cartooning industry.

http://www.crankbunny.com/

---

Creativity Explored

EP

Official website of a full time visual art center for adults who have developmental disabilities. Approaches cartooning as a therapeutical activity.

http://www.creativityexplored.org/

---

Electronic Arts Intermix

EP

The EAI organization serves as a nonprofit resource for artists' video, offering screenings, preservation, and international media distribution.

http://www.eai.org/index.htm

---

Folk Art Society of America

EP

Highlights the unique world of contemporary folk, self-taught, and outsider art with calendars, articles and other useful resources.

http://folkart.org/

---

Hertfordshire Visual Arts Forum

EP

Official website of the organization includes a virtual gallery that users can visit and highlights news in regard to upcoming fine arts exhibitions.

http://www.hvaf.org.uk/

---

Incompetech

Incompetech features "The Smart-Ass Guide to Art" - an information portal regarding selective artists and their works. The biographies of the artists feature less known, humorous notes.

http://www.incompetech.com/art/

---

Independent Collectors

A website directed towards collectors of contemporary art. By joining, a collector gets access to many other collectors, collections, and the tools to expand their own collection. It is free to join and start searching the database.

http://www.independent-collectors.com/

---

International Surreal Art Collective

EP

Offers information and details on collective of surreal artists. Profiles artists and their art work, including paintings, drawings, sculpture, and digital art.

http://beinart.org/

---

JCD Photography

UK based photo agency, ocusing on weddings, corporate, fashion, interior design, pets, family and more. A gallery and contact information available on the website.

http://www.jcdphotography.co.uk/

---