Galleries are among the most important resources for artists and designers. Galleries are a place to be seen and heard, to have your work introduced to the public and experienced by those who might never have the chance to elsewhere. Galleries are more than just a place to buy and sell art, galleries allow artists and designers to connect and network with the art world.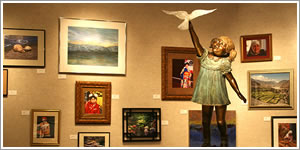 Galleries are a means to interact with other artists, to develop business and to be known. Galleries also serve as a modern take on museums, showing the best and newest of emerging designers and artist before they are even known. Galleries provided a learning experience, a place to gather inspiration if you're an artist, and a place to appreciate new ideas and beautiful artwork.
There are many types of galleries from genre specific venues, such as photographic galleries, to multi function spaces, some of which can serve as gallery, bar and nightclub all in one. From fine arts to performances, galleries are the means to communication and socialize, allowing artists and benefactors alike to develop a broader appreciation of art and discover new ideas.
This way of exposing your work in the domain of art through galleries is one of the most known and appreciated among artists, due to its many benefits. When attending a gallery, whether if we are speaking of a gallery that consists in photographs of famous photographers or old paintings, you get to see many different styles of both immortalizing moments and portray an image.
This way you can enrich your techniques in your branch of the art industry and develop your own style, if you are a newbie. Moreover, galleries turn out to be a great way of meeting new people, especially if the gallery is an important one and was advertised accordingly. If you have many aquiantances in the art industry, your chances of becoming a well-known artist significantly increase. Through this web directory you can connect to certain art galleries and see which one fits you the best.
Along with the fact that once you expose your paintings or photos in a gallery you get the chance to sell most of them at a really good price, you will also get the occasion to expose your qualities and your tallent, and maybe this way somebody will see your great potential as an artist and propose you offers. Get in touch with the art galleries right now and see if you can take part at such kind of event!
Among this web directory you will find links and listings for galleries, from fine art venues to outdoor display areas. Artists can connect with galleries to inquiry about showing their work, while others can research special events or to discover where their favorite painting is located. History, geography and culture have all played key roles in the development of galleries, while galleries have been one of the most important developments in the artistic world.
Galleries not only give artists the means to connection, but maintain and develop a more technical, business oriented structure among the art world. Artists and galleries have worked hand in hand, relying on each other to provide what they themselves could not. Artists provide galleries with a viable product and galleries are the means by which artists can sell their works. Galleries provide so many functions to both artists and the public, from museum to business; galleries are an essential part of the art world.
There are 45 Galleries web directory related resources in this category!
---
GalleryToday

An art gallery selling online modern landscape art, large abstract paintings and original oil paintings which are signed by international artists.

http://www.gallerytoday.com

---

Saatchi Gallery

Innovative place where greatest or largely unseen contemporary works of art are displayed.

http://www.saatchi-gallery.co.uk/

---

A Gallery

Photography gallery in New Orleans, USA. On the website, interested parties can find schedules, exhibition information and some info about the artists.

http://www.agallery.com/

---

Alfredo's Gallery

Interactive website gallery of photography. Bio, exhibition and sneak peeks at works are also available.

http://www.alfredosphoto.com/

---

Art Gallery Of New South Wales

EP

Official website of a publicly funded art gallery meant to highlight the world's most renowned works of art.

http://www.artgallery.nsw.gov.au/

---

Art Gallery of Ontario

EP

Large art museum located in Toronto, Canada, featuring collection of works from 11th century to present day. Find information on gallery, education programs, and visiting hours.

http://www.ago.net/

---

Art Gallery Worldwide

Online shopping store, offers topic based artworks; property of Internet Technology Architecture and Development LLC.

http://www.gallery-worldwide.com/

---

Artcyclopedia

Metasearch site for art; visitors can browse artists, artworks and museums using various search functions. They feature different art related sections, like "Most popular artists of the month", "News from around the world" and more.

http://www.artcyclopedia.com/

---

ArtfeF

Selective, modern gallery dedicated to fine art photography. Features 20th century works of well-known artists with an emphasis on Latin American and Swiss art.

http://www.artef.com/

---

Brooklyn Museum of Art

EP

The museum's collection includes art of Asia, Africa, the Pacific, Ancient Egypt, and the Americas; painting, sculpture, and decorative arts.

http://www.brooklynmuseum.org/home.php

---

Camera Obscura Gallery

Established in 1979 by Hal Gould, the gallery focuses on fine art photography from the US. The pieces are available for purchase by interested parties or art collectors.

http://www.cameraobscuragallery.com/

---

Chateau de Versailles

EP

Official website of the former Royal Residence of the French branch of the Boubon dynasty. Features virtual tours, maps, shop and opening hours.

http://en.chateauversailles.fr/homepage

---

Corcoran Gallery of Art

EP

Offers information about museum exhibitions and collections, calendar, membership, shop, and more.

http://www.corcoran.org/

---

Detroit Institute of Arts

EP

Features images and information from galleries and exhibitions, DIA event and educational program schedules, and information on membership and museum shops.

http://www.dia.org/

---

Fifty One

An online collection of fine art photography coming from a range of artists. It is updated frequently with new works which users can enjoy on the website.

http://www.gallery51.com/

---

---

Gallery Sink

Established by Mark Sink from Denver, Colorado, US, the Gallery Sink presents fine art photography from a range of artists, including Sink's own works. Together with his wife, Kristen Hatgi, they run studio photography services as well.

http://www.gallerysink.com/

---

Heard Museum

EP

Official website of known museum that specializes primarily in native cultures and art.

http://heard.org/

---

High Museum of Art

EP

Features images of contemporary art; 19th and 20th century furniture; American and European painting; African art; folk art, and photography.

http://www.high.org/

---

Howard Greenberg Gallery

The Howard Greenberg Gallery prides itself with a history of over 20 years in which it presented photography pieces from the media. From Pictorialism to Modernism, the gallery is also known as a place where photography history can be admired.

http://www.howardgreenberg.com

---

Isabella Stewart Gardner Museum

EP

Offers a look at its collections of paintings, sculpture, architecture. Includes information about its history and founding.

http://www.gardnermuseum.org/

---

Jackson Fine Art

Gallery in Atlanta, Georgia. Focused on 20th century and contemporary art photography. The website portrays past works and bios of the artists.

http://www.jacksonfineart.com/

---

Kyoto National Museum

EP

Consists of a repository of Japanese and East Asian art. Extensive site includes detailed images, articles for children, and online exhibitions.

http://www.kyohaku.go.jp/eng/index.html

---

Look Beyond Art Gallery

An independent art gallery in Miami Beach, FL which sells unique paintings, ceramics, furniture, and sculptures.

http://www.lookbeyond-usa.com

---

Milan Science Museum

EP

Offers 28 sections that exhibit significant objects of technology and astronomy, including scientific work by Leonardo da Vinci. Also in Italian.

http://www.museoscienza.org/

---

MoMA PS1

EP

Entirely devoted to the production, presentation, and interpretation of the work of innovative artists in all media.

http://momaps1.org/

---

Monoprints.com: Art Galleries in the USA

Searchable by state art galleries. Each listing include the address, phone and website. Visitors can suggest new entries.

http://www.monoprints.com/resources/artgalleries.php

---

Museo Nacional del Prado

EP

The website offers a virtual tours, museum history, but also visiting hours, gallery opening information and more.

https://www.museodelprado.es/

---

Museum of Bad Art (MOBA)

EP

Focuses on works that are considered bad art. Founders conclude that the museum addresses art that is too bad to be ignored.

http://www.museumofbadart.org/

---

Museum of Contemporary Art

EP

Features collects, exhibits, and interprets art created since 1940 in all media and preserves it for future generations.

http://www.moca.org/

---