Art and design are two very different fields. Though related, there is a major difference which separates art from design. Both create, both understand the aspects of shape, form and color but the focus of art is simply to create. One can paint or draw or sculpt because they feel, because they want to create something beautiful or ugly and are justified in doing so.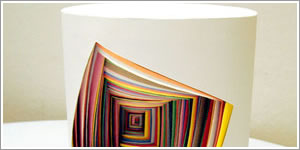 They can make art for art's sake and no other. Design on the other hand serves a purpose. Designers create to satisfy a need or to produce a product that has use and function. Design requires research and planning, specifically to fulfill the requirements of whatever item is being produced. Design requires a process to be done in order to create functional useful "products".
Whether it is graphic design, which requires a specific image or idea to be communicated for its purpose, or fashion design creating wearable usable clothing, design is about form and function. There are many fields of design, from web development to engineering; design requires highly specialized skills and knowledge to create useable and beautiful products. Design can encompass everything from invention to the re-design of an objects form. This web directory can assist artists and designers with all manner of design needs.
Being a designer is not something you necessarily choose to be, because you must have certain skills in order to satisfy your client or meet the needs of your company. For instance, you should not lack neither in imagination nor in aesthetic sense when you are asked to decorate a room or to arrange a restaurant for a special event.
You have to be design-oriented, and if you are one of those talented designers that want to make their work more popular, this web directory is the right place to do it. Designers should be aware of the fact that we live in a world of shapes where everybody is different, and so are out tastes. If you are a designer, during your career you will receive both compliments and also critics which will teach you how to be a perfectionist. Designers work with their soul and they give away a part of them every time they create a blouse or bring something new to the market. When somebody comes at your place and appreciates your furniture, that is all designer`s creation.
All the designers are reffined people and although there is serious competition, every designer creates something unique in its own way. Designers have different styles, different ways or "giving birth" to something because two people can look at the same picture and see two totally different things. This is how it works with the designers and this is why talented designers will always be wanted.
From historical research to modern manufactures and materials, designers can find everything they need to create here. The industrial revolution was truly the beginning of modern design, when mass production changed to role of the artist and craftsmen into designer. Designers are responsible for virtually everything the modern world has, from the color of your coffee mug, to the number of trees on your street.
Design encompasses careful planning and research to create products and ideas. On a broader scale "design" can simple describe the process of creation, of defining a goal, researching its needs, brainstorming, prototyping and finally production. Design is one of the most important of all the art reaching into every aspect of our lives.
There are 54 Design web directory related resources in this category!
---
Ad School

An international network of educational options in ad and design, which allows students the chance to study advertising in some of the most stylistically influential cities in the world.

http://www.adschool.edu/

---

The Design Academy

Offers courses in lighting design, image consultancy, project management, interior design, and more. Let our highly accredited team teach you how to specialize in the world of design.

http://www.thedesignecademy.com/

---

100% Design

EP

Official website of the annual exhibition of contemporary interior products in Earl's Court, London.

http://www.100percentdesign.co.uk/

---

A List Apart

EP

Weekly online magazine for people who make web sites, offers resources and articles on how to improve their skills.

http://alistapart.com/

---

AG Design

EP

Offers articles and information that cover such topics as jobs, tips, fonts, hardware, and images.

http://www.allgraphicdesign.com/

---

Area of Design

A comprehensive resource for people interested in American art and design. Also a portal in which artists and designers collaborate on different projects.

http://www.areaofdesign.com/

---

Art Glossary

A quarterly design magazine which expects artists define their work and give it a specific label. Previews of past issues available on the website.

http://art-glossary.com/

---

Blanket Magazine

Magazine dedicated to newly-found artists, designers and photographers. Its first number launched in 2006 and prospective buyers can browse galleries and images of the printed version.

http://blanketmagazine.com/

---

Brands Of The World

EP

Invites users to bowse a large collection of logos and brands in vector format. Enables designers to access vector forms of well-known logos for use in presentations, given the permission of the copyright owner.

http://www.brandsoftheworld.com/

---

Colors Magazine

Design and art magazine focusing on a different general topic with each number. Issues can be downloaded and read on iPad through a dedicated app.

http://www.colorsmagazine.com/

---

COLOURlovers

EP

Monitors and influences color trends as they are observed in various purposes; from product design to architectural specification.

http://www.colourlovers.com/

---

Communication Arts

EP

Creative online resource for graphic design, advertising, photography, multimedia development, illustration, and art direction.

http://www.commarts.com/

---

CORE Industrial Design Network

EP

Offers a series of articles and various projects, as well as designer pages and a wealth of other industrial design-related information.

http://www.core77.com/

---

Creative Bloq

EP

Offers features that includes downloads, reviews, tutorials, competitions, and more for the graphic design enthusiast and web site builder.

http://www.creativebloq.com/

---

Cristaux International

Promises complete service in making of your custom awards as well as other forms of acknowledgements, from the initial model to the actual creation. Their organization is recognized by its sophisticated solutions in designing awards and its continuous work to enhance its product range by implementing original solutions.

https://www.cristaux.com/

---

Design 42 Day

Design 42 Day is a platform that promotes all kinds of new design, in all its respective fields. The idea behind it is innovation and promoting not only popularity, but the artistic aspect as well.

http://www.design42day.com/

---

Design Addict

A complete list of designers from the 20th century. Users can also find a calendar of upcoming events, a forum to discuss design-related topics and a blog for more, in-depth information in the field

http://www.designaddict.com/

---

Design Boom

An European ezine dedicated to art, architecture, design and technology. Interactive website with latest news in the respective fields of interest.

http://www.designboom.com/

---

Design Charts

EP

Charts that are created weekly by scanning the traffic generated from design networks of web sites that award website designers and their work.

http://www.designcharts.com/

---

Design Observer

EP

Offers writings and news about design and culture by contributors from the fields of graphic design, art, and publishing.

http://designobserver.com/

---

Design Times

EP

Publication that appears very two months. Celebrates beautiful interiors and exceptional exteriors.

http://www.designtimes.net

---

Design You Trust

Design-oriented community of bloggers who update the site on an hourly bases with trends, ideas, events and portfolios of designers. Subscribing through a RSS feed is possible, along with links to social platform pages.

http://designyoutrust.com/

---

DesignAddict

EP

The website is a portal for modern and post-modern design enthusiasts. It features news and other resources.

http://www.designaddict.com/

---

DesignIntuit

EP

Offers news and information on architecture, art, history and culture. Also includes a glossary of terms.

http://www.designintuit.com/

---

Dexigner

Growing community website for designers. News, events of interest and information about upcoming competitions are included.

http://www.dexigner.com/

---

Digital Web Magazine

EP

Industry specialized online magazine intended for professional web designers, web developers, and information architects.

http://www.digital-web.com/

---

Dmitry's Design Lab

Learn the basics of design at this site. Understand the proper way to use such things as photography, animation, shape, and texture in your art design projects.

http://www.webreference.com/dlab/index.html

---

Electronic Design

EP

Online exhibition that centers on the the power design element of the electrical engineering market place featuring news, articles, data sheets, webcasts, and vendors.

http://electronicdesign.com/

---

Exotic India

Provides an extensive collection of Thangka, Tajore and Buddha paintings.

http://www.exoticindiaart.com

---

Fine Composition

EP

The blog focuses mainly on interior design, furniture items, as well as product design.

http://www.finecomposition.com/

---