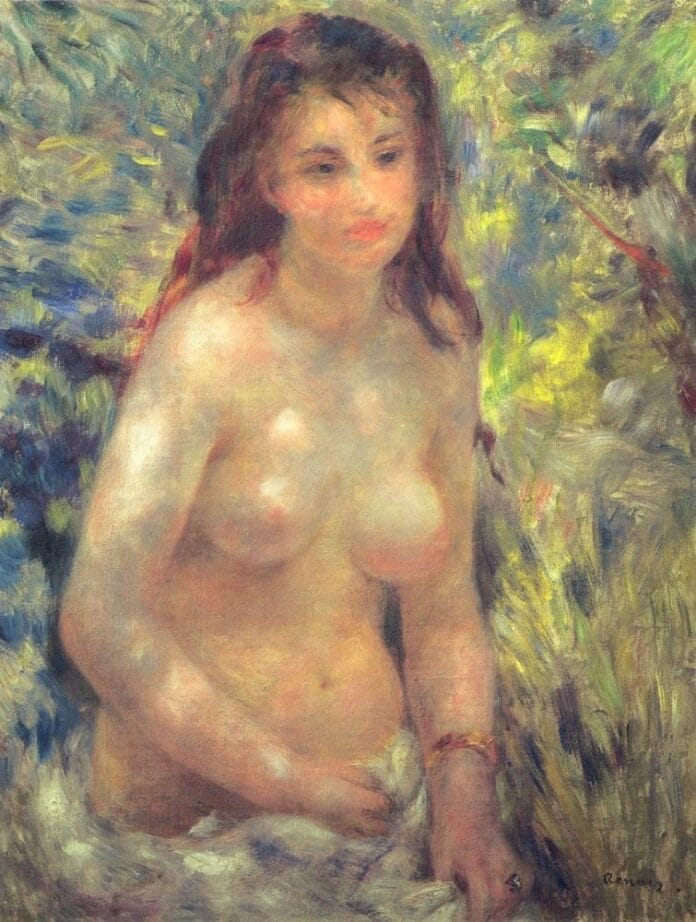 One of the founding members of the Impressionist movement and one of the most prolific, Pierre-Auguste Renoir (1841-1919) is best known for his exuberant scenes of flowers, children and curvy women, using broken brush strokes and bright colour.
Although he was born in Limoges in south-west France, Renoir grew up in Paris, and from the age of thirteen was apprenticed as a porcelain painter. He also began spending time in the Louvre, studying paintings by Watteau, Fragonard, Boucher and Delacroix.
He painted fans and banners, and then joined Gleyres studio where he met Monet, Sisley and Bazille. From 1864, he was occasionally successful with submissions to the Salon, but this was erratic and he struggled to make a living.
He and Monet went on painting expeditions together where they painted en plein air and he began using pure unblended colours and broad brushstrokes, capturing brief moments with a sketchlike looseness that formed the basis of the Impressionist style. He exhibited at four of the Impressionist exhibitions and became successful in the late 1870s as a portraitist.
During the 1880s, he travelled to Italy, England, the Netherlands, Spain, Germany and North Africa, where he became inspired by the light, scenery and in particular, the art of Raphael, Velazquez and Rubens.
From 1881, the art dealer Durand-Ruel began buying his work.
Although sometimes criticized for the "sweetness" of his work, which developed from his employment, and his admiration of Rococo artists, unlike many of his contemporaries Renoir embraced the modern sights of Paris. In the late 1880s, he abandoned his soft
Impressionist brushstrokes for smoother contours, which has since been called his "dry" or "sour" style. Working carefully and meticulously, his colors also became cooler, but after scathing condemnation, he returned to vibrant, rich colours and free brushwork.
This painting was executed at the height of his Impressionist phase; he focused purely on the effects of sunlight dappling through the trees onto the woman's skin.
This was the consummation of Renoir's studies of light playing on surfaces in the open air.